Let's make a couple of things clear: If FC Dallas was playing the same Arabe Unido team that defeated Monterey twice, and won the LPF Apertura Championship, FCD would be a prohibited underdog.
Let's take a look at the lineup that Arabe Unido used to reach the CCL Quarterfinals:
Arabe Unido 2016 Apertura Champions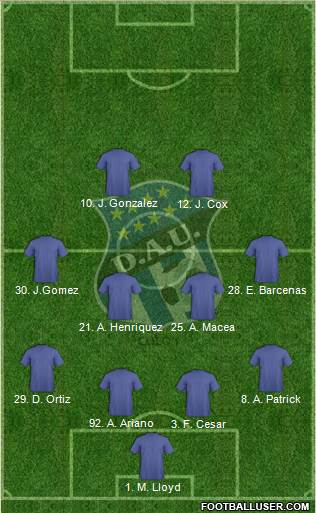 Three players in this lineup had breakout performances in group play, and in the Apertura title run. All 3 players were young, and were quickly sold by Arabe Unido. The 3 players were the Right Middfielder-Barcenas, the Forward-Cox, and the Center Back-Ariano.
Barcenas and Cox were the two most dynamic players on the field, and Ariano proved he could hold his own, against the Liga MX attackers. The rest of the players are still part of the team.
Arabe Unido 2017 Clausura: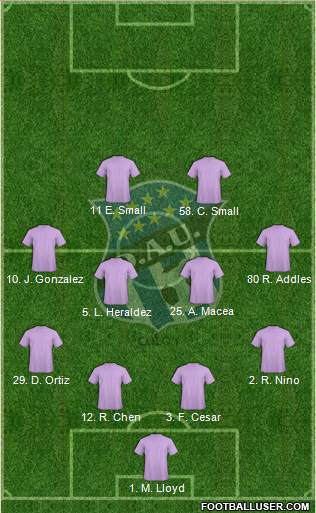 What has changed?
#12 R. Chen is a re-enforcement, and has recently won the starting CB spot, starting the last 3 games.
#80 R. Addles spent last season on loan in Peru, after being a regular starter for Arabe Unido the 2 prior seasons. It should be noted that Addles is more likely to start at LM, and Gonzalez at RM, but they are interchangeable.
#58 C. Small is a re-enforcement, and has started or played in every match he's been available for.
#2 R. Nino has actually been the regular RB starter for several seasons.
#11 E. Small was Arabe Unido's leading scorer during the Apertura, with 16 goals. He has been starting at forward in the Clausura, but can play anywhere in the attacking 3rd.
Tactics, Strengths and Characteristics:
Arabe Unido is pretty much the same team from the Apertura, but has been integrating three players into their starting lineup, and a couple of new reserves.
This is a very young team, averaging 26 years for the starters, but that average drops to 24 years if you remove the two longtime veteran starters (Gk-Lloyd 34yrs/CB-Cesar 32yrs), and even younger once you delve into the reserves.
Arabe Unido is a very aggressive, and very physical team, that will press high, and whose players will swarm to the ball on defense. This team is fast and volatile, feeding off their emotions, and playing with unmistakable passion. Expect things to get chippy, and expect a suffocating press that will see 3 to 5 guys swarm whichever FC Dallas player has the ball. They play very solid team defense, and teams have a very hard time breaching their defense during the run of play.
M. Lloyd is the longtime starting GK. He is a top level player at his position, combining for 12 saves in the 2 games against Monterey.
F. Cesar is the Captain, and at 6'3, the most imposing defender on the team. He'll help press high, but is not likely to join the attack.
Like FC Dallas, Arabe Unido likes to overlap their fullbacks and wings on the attack. The LB, Ortiz, is very aggressive coming forward, so expect to see a lot of him in the attacking third.
The 2 midfielders are more defensive in nature, and are solid, but don't really stand out on offense.
Like FC Dallas, Arabe Unido will invert their wing players, and pretty much all their players in the attacking 3rd are interchangeable. The Arabe Unido attackers, have the green light, to shoot from anywhere and everywhere.
E. Small is the faster of the 2 forwards, and will attack from the wings. He likes to breach the back corners of the box, and whip in dangerous crosses. He is the co-leading scorer during the Clausura, with 2 goals.
C. Small is the younger (21yrs) stronger forward, and has good hold up play skills. Yet to score, his hold up ability has resulted in a couple of assists.
Renan Addles has recently looked like the most dynamic player on the field. Think of him as a Tesho Akindele with superior footwork, and excellent long range shot capabilities. He is most likely to be the main man on set pieces, and corner kicks. Addles is the co-leading scorer with 2 goals, all of which came in the most recent match against Clausura leaders, Tauro FC.
Full of dynamic players, and confident in their defenders, Arabe Unido loves to catch teams on the counter, and have the capability to score on bang-bang plays within seconds.
Depth is also a team strength, as 24 players have seen action in just 7 matches.
#30 J. Gomez is usually first off the bench, and can play anywhere in the attacking 3rd.
#20 A. Hincapie is one of the new attacking additions this Clausura, and will also likely get minutes.
#21 A. Henriquez is usually the first midfielder off the bench.
Other heavy minutes guys are defender E. Mena, Forward G. Pino, and Midfielder C. Asprilla.
Weaknesses
In the lead up going into the start of CCL group stage, Arabe Unido entered group play on a run of good form, and stayed in excellent form through out group play and all the way to the Apertura title.
Bad Form:
The current squad, enters the CCL Quarterfinals, on a run of bad form. Currently 7th (out of 10) in the Clausura Table, with a total of 7 points in 7 league matches. Arabe Unido has been particularly bad on the road, as they have yet to win a single road game, losing all 3 of them by a combined 1-4 score.
Arabe Unido has yet to collect a victory against a single opponent that is ahead of them in the standings (0 wins - 4 losses - 1 draw). After winning the first game of the Aparetura, Arabe Unido has gone on to win only 1 game since then (1 win - 4 losses - 1 draw).
The offense has been mostly stagnant, with 3 players tied for most goals, at 2 goals each. One of those players was Blass Perez, who scored a brace in leading Arabe Unido to it's last victory. Super Raton was quickly transferred to Bolivia, after only having played 2 games.
Set Piece Defending:
Robert Chen, the new starting CB, is only 5'9. Combined with poor marking habits by the new starters, and communication breakdowns that have not been resolved to date, and this has been the biggest Achilles Heel during the Clausura. Opponents have game planed around this weakness, and most of the goals scored against Arabe Unido, have been some variation of set pieces.
Card Accumulation:
With all that youth and also comes recklessness. Add to that the very volatile nature of the squad, and the cards just pile up once frustration sets in. In only 7 Clausura matches played, Arabe Unido has accumulated a staggering 15 yellows, and 3 reds. They have had at least 1 red in each of their 2 most recent games, during their current 2 game losing streak.
Over Aggressiveness:
With their penchant for swarming defense, Arabe Unido leaves itself open to counters. Teams attack Arabe Unido by constantly attempting to switch sides on the field through long crosses. The very overly aggressive nature of the team, also leads to many fouls on defense. This often helps expose the team to further set pieces, as they have a penchant for fouling teams just outside the box.
Poor Fitness:
This only really applies to the new starters. The new starters, and new reserves, simply haven't looked capable of playing a full 90 minutes. In the most recent match, Renan Addles had to be carried off the field, following serious cramping in the 72nd minute. Renan, was in the middle of a monster game, having scored twice, and getting one assist.
Conclusion and Prediction:
This is a winnable game for FCD. FC Dallas has the necessary players to target and exploit all the weaknesses that plague Arabe Unido.
The most likely outcome is a 1-0 victory at home for FC Dallas. My official prediction is a 3-1 victory at home for FC Dallas.
PS
The match between Arabe Unido and Tauro FC, this past Friday, has been declared the most exciting match of the LPF Clausura so far. The truth, is that everything happened in the second half, and the second half will likely go down as the best half of soccer played this Clausura.
Please do yourself a favor, and watch it for yourself. E. Small was serving a red card suspension and did not play. All of Arabe Unido's strengths and weaknesses, are laid bare for all to see, in one amazing half of soccer: