FC Dallas ended their three-game road swing with three consecutive losses, hemorrhaging eight goals in the process while being blanked on the score sheet themselves. As a collective whole, it was not a good run by any stretch. However, there were still some small positives that Oscar Pareja and his players could build off from. Toronto FC is a good team, armed with a very balanced roster, a couple of superstars and quite possibly the best attacking player this league has ever seen, so holding them to a 1-0 loss is a small victory in it of itself. Especially, when you factor in that the losses up to this point were 5-0, 4-0 and 3-0. From my perspective, Dallas made significant improvements and while troubling that the offense still struggled, the defense looked to be course correcting itself at a time of need.
Containing Giovinco
Without Matt Hedges, there's really no hope for this team to stop a player of Sebastian Giovinco's caliber. It's just not going to happen. However, collectively, FC Dallas can and did, do their best to contain and minimize his overall impact. As you can see below, his shot chart was high in volume but low in xG (expected goal - aka, how likely would a shot from that angle, distance, body part would find the back of the net) probability. If you're going to have Giovinco launch 10 shots against you, you make damn sure that he does it from as far away from the goal as possible and let one of the best shot-stoppers in the league do his thing.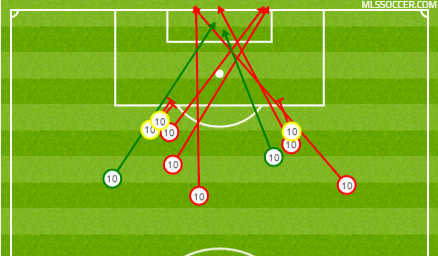 (Green - shot on target. Red - shot off target. Yellow - shot blocked)
Granted, I did tweet mid game that Giovinco shooting from anywhere scared me, period. But there's definitely a lesser of the two evils, and when defending against him, it's best to let him fire away from distance than let him beat you off the dribble. And speaking of which, Victor Ulloa and Kellyn Acosta do deserve a lot of credit for not letting Seba beat them with the first touch. Both kept their distance to let Gio receive the ball, then closed him down after he settled the pass, thus nullifying his ability to do a spectacular flick or two to beat them. That takes a lot of mental discipline, especially for younger players. So props to them for sustaining that for the entire game. His passing was, for someone of his caliber, kept to a pretty normal output.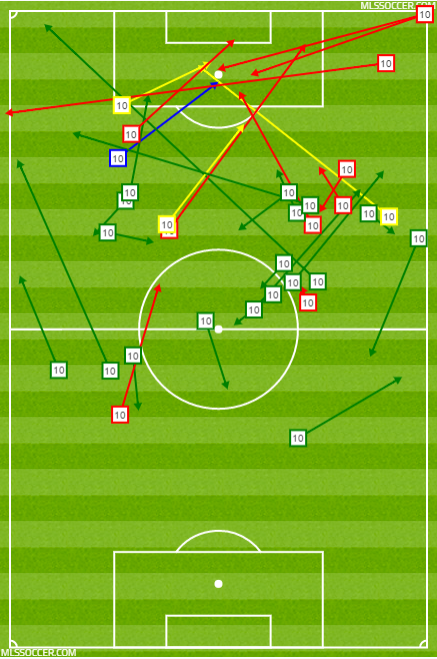 (Green - successful pass. Red - unsuccessful pass. Blue - assist. Yellow - key pass)
Is Castillo Back?
After several pedestrian like performances from Fabian Castillo as of late, the Columbian winger was banished to the bench to start this match. Castillo emerged back in the lineup by half time and immediately made his presence felt by getting into much better attacking positions. Yes, he definitely should have buried his chance in the 66th minute, but that was the kind of chance and run that's been inexplicably absent from him in recent weeks. Castillo is a winger that basically plays high stakes poker using a breadth of high-risk, high-reward maneuvers to get into scoring positions. Given the choice between a Castillo not creating chance and not scoring, or one creating chances and not converting, I'd take the latter in a heartbeat. As long as he's creating chances, the goals will come... eventually.
There were definitely other things he could have done better, such as several of his take ons did not prove successful and he could have released the ball a bit quicker out of some double teams, but his overall positioning was significantly better than the last couple of matches. He was far more advanced and was finding the ball in much more dangerous positions as evidenced by his passing chart, his passes received chart and take on charts below.
Passing chart: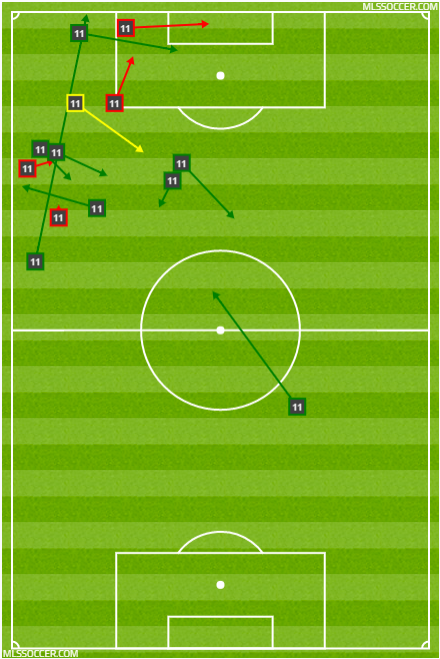 (Green - successful pass. Red - unsuccessful pass.)
Passes received: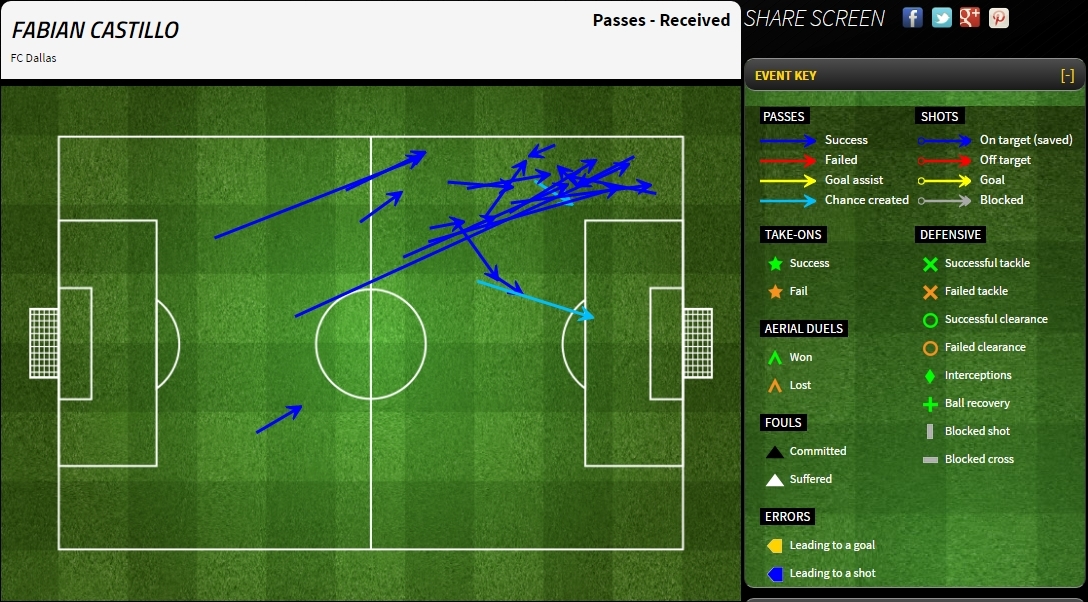 Take ons: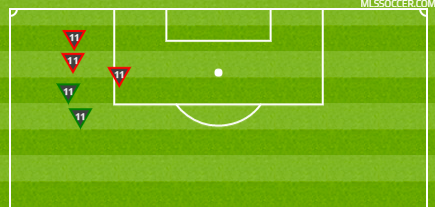 (Green - successful take on. Red - unsuccessful take on)
In a match where it was obvious that his entrance in the game meant Dallas was going to look to him to spark the attack and Toronto's defense was going to start marking him tighter, this is definitely a sign of improvement. But Castillo cannot do it alone, which brings me to my next point.
What's up with Urruti?
I wasn't concerned when Urruti stopped scoring (a run that now spans 7 consecutive matches). Mostly because it coincided with Mauro Diaz getting injured and he has not gotten the same kind of service from anyone on this team yet. Plus, while he wasn't scoring, he was hustling and tackling to win the ball back at a fairly consistent and regular basis. Last night? He put up a solitary defensive action and a single shot attempt.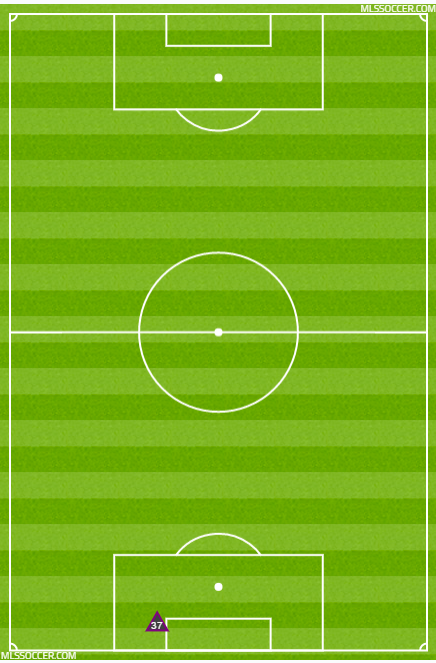 (Purple triangle - clearance)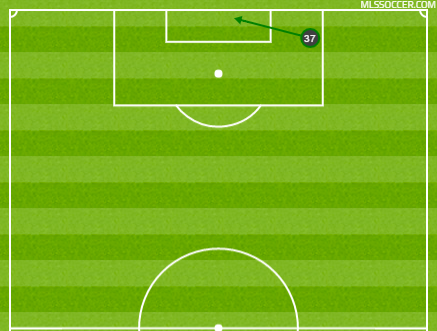 (Green - shot on target)
If Urruti wants to calm the nerves of the supporters, he needs to find the back of the net soon and with regularity.