FC Dallas headed to Red Bull Arena on Friday, seeking at least a point but instead were treated to a New York Red Bulls team firing on all cylinders, sending Dallas back home with another humiliating road loss. The Red Bulls were just one of those teams this year where their results did not match their level of play and unfortunately for Dallas, they caught NYRB at the wrong time.
Before Friday's game, NYRB headed in with the highest xGF in the league at 15.33 (courtesy of American Soccer Anaysis) despite only having scored 8 goals in the season thus far. Their GA was 16, and their xGA was just 10.57. All this to say that luck was not on their side on either end of the goal, with their goal scorers unable to find the back of the net when they should've and shots against them were beating Luis Robles, when they otherwise wouldn't. Their GD-xGD (goal differential minus expected goal differential) was a ridiculous 12.76. When a team's GD-xGD is that far of an outlier, it's just a matter of time before things begin to settle down and they begin to regress back to the mean. Just as NYRB was unlucky the first 8 games of the year, Dallas was unlucky to face them when finally everything clicked.
But it's not just all numbers, stats, math, regression and other nerd talk that won the game. NYRB had an incredible game plan heading into the match and their execution of it was impeccable.
High Press
Since Jesse Marsch took over, the NYRB have employed a high press defensive scheme to force opponents into turning the ball over in bad positions. It's a very physically demanding scheme that requires a lot of players with immense fitness and fluidity to their movement. Dallas had absolutely no answer tor it.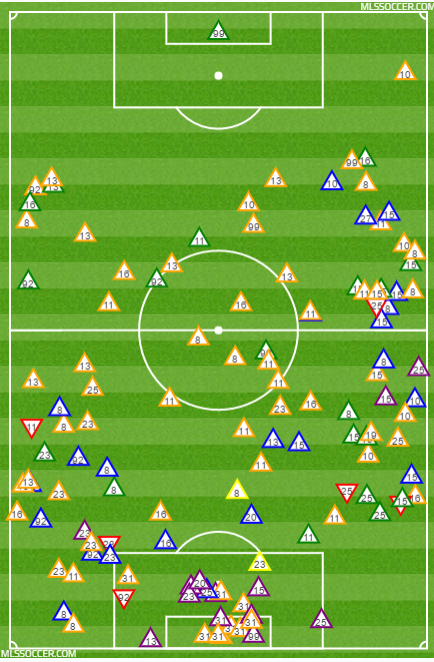 (Green - successful tackle. Orange - recovery. Blue - interception. Purple - clearance. Yellow - block. Red - unsuccessful tackle.)
NYRB successful recovered the ball 22 times inside Dallas' own half. Then to add insult to injury, added 10 tackles, and picked off 6 passes, thus completely nullifying FCD's ability to counter or do much of anything on the offensive side of things.
Where were the wingers?
If Dallas were to have a chance against this high press, it needed a lot more from what they got out of Fabian Castillo and Michael Barrios on the wings. Instead they were both largely ineffective as evidenced by their passing chart: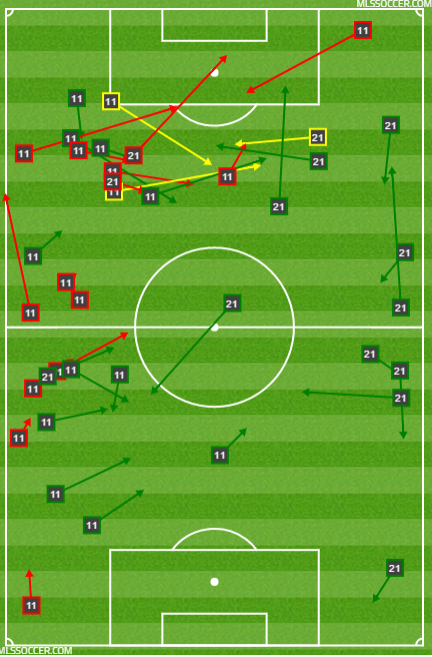 And while credit to Castillo for at least trying, but his inability to beat players off the dribble (though he was often double and triple teamed) meant FCD's best offensive weapon was neutralized for too easily for NYRB.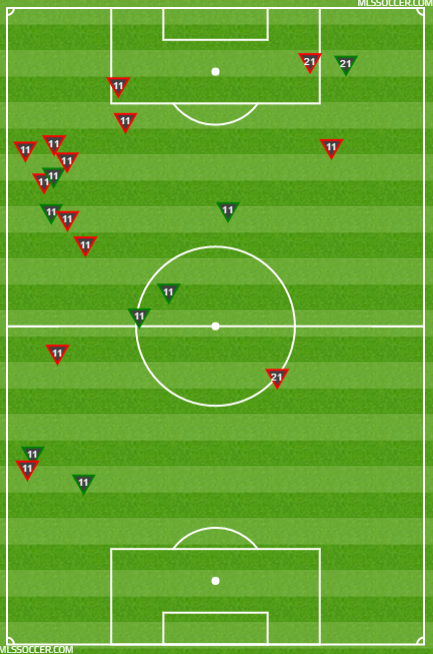 No Panic
It's common to react negatively after two consecutive road losses by a combined score of 7-0, but it's just two games out of a 34 game season. While the next match against Toronto FC is no easier than last Friday's game, a win effectively gives Dallas 3 points out of a three-game road trip, essentially saying they managed to hold serve while away from Frisco. We've said it here many times for several years that as long as you win at home and draw away, you'll do fine in this league. Dallas can still salvage this road-trip with a win next weekend.