Dallas walked away from last night's tussle with the Columbus Crew SC with a solitary point and depending on how you look at it, it was either two points dropped or an acceptable outcome given the circumstances. On one hand, Columbus is a talented squad that hasn't seen the results fall in their favor yet, and factoring in a late Mauro Diaz injury, a point isn't so bad. The flip side though is that this is a home match and for a side that's contending for trophies, anything but three points at home is less than acceptable.
The talking point for this piece will be what Oscar Pareja did with the Diaz injury and how it affected the team's play. Acosta wasn't bad as an attacking mid, but he wasn't particularly good either (which is not his fault as it's not his natural position and had roughly 24 hours to prepare for his new role). But why did Pareja opt to insert Acosta into an unfamiliar position? Why not play Mauro Rosales or even dump the formation for a more favorable 4-4-2 set up? Let's break it down.
The Kellyn at CAM Experiment
The Diaz injury will be the biggest story coming out of this weekend's result though Oscar Pareja has clarified that situation stating that Diaz could have played but they opted not to risk it. Injury aside, the decision to keep the formation and insert Kellyn Acosta was an interesting move. Dallas entered into a similar situation back in 2014 when Diaz suffered a meniscus tear and Pareja inserted Danny Garcia into the starting role. Dallas struggled offensively without a suitable Diaz replacement and things started to change that year when Pareja switched from a possession oriented 4-2-3-1 to a counter attacking 4-4-2 set up. So once Diaz was deemed unavailable, I found it surprising that Pareja would revert back to trying to play another player in Diaz's role.
The results speak for themselves: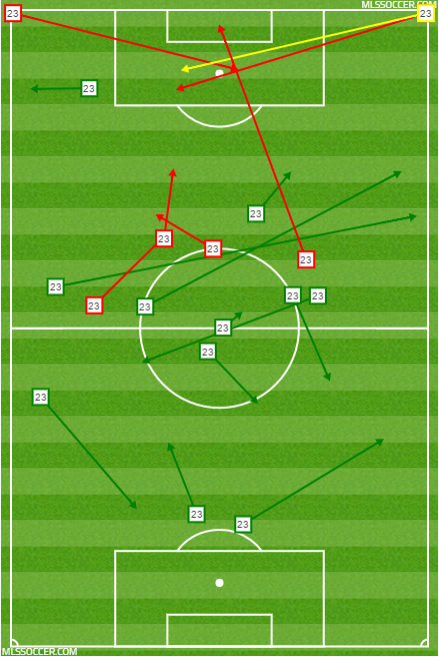 (Green - Successful Pass. Red - Unsuccessful Pass. Yellow - Key Pass)
This was Acosta's first half passing chart, which at first glance, makes you think he was playing in his usual central midfield role, with possibly the license to push a little higher up the field. What you certainly don't take away from this is him being an attacking midfield role, charged with the responsibility to pull the strings and initiate the team's attack.
Certainly don't fault Acosta for his performance. It was fine, but it has that odd 2014 feeling of relying on a player who is not Mauro Diaz to play like Diaz. It just doesn't work.
Impatient Offense
One of the effects of playing Acosta in this attacking midfield role is that lack of having a true offensive creator for this Dallas side. As a result, Dallas players did their best to compensate, but in doing so, rushed their chances and it resulted in a lot of this: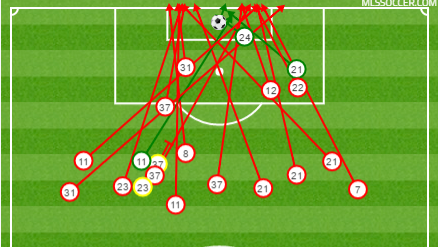 (Green - Shot on Target, Red - Shot Off Target, Yellow - Blocked, Ball - Goal)
The first thing you'll notice is the sea of red from Dallas' shots last night. FC Dallas attempted a season-high 21 shots last night but managed to only put four on target. After you get past the sheer volume of misses, the second thing you'll notice is the shot location. 15 of Dallas' total shots came from way outside the penalty area, with only Castillo's curler that forced a save out of Steve Clark.
Goals scored from outside the penalty area are rare. It's pretty intuitive that the farther away from goal you are, the harder it is to score. What Columbus and Gregg Berhalter did was drop their defensive line a couple of yards and invite Dallas to shoot from distance; playing the odds that Dallas would miss and result in a change of possession or Clark would save it and again, initiate another change of possession.
In my book, these are cheap turnovers - unforced errors by the defense to get a favorable result. On the field last night, the only player who should have the license to shoot from wherever, whenever they want was Maxi Urruti. Everyone else had to get the ball into a more favorable position before pulling the trigger. If Dallas cannot be more patient on the ball to pull out defenses from their lines, then this will be a very long season.
Or Was It Just an Off Night?
One of the things that Dallas has routinely been very good at has been beating their opponents off the dribble. Armed with Fabian Castillo and Michael Barrios on the wings with Mauro Diaz in the middle, it's pretty easy to pull off a quick feint and off to the races you go. However, FC Dallas was woeful taking on the Crew defenders last night: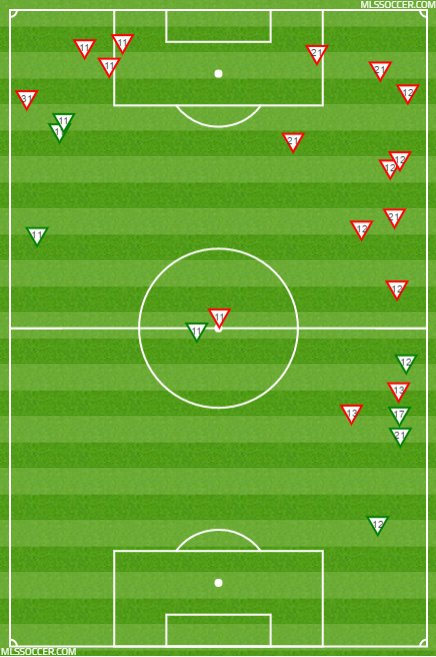 (Green - Successful Dribble, Red - Unsuccessful Dribble)
Barrios completed one dribble the entire match and that was inside his own half. Castillo faired better but lost out when he neared the penalty area when it mattered most. And Ryan Hollingshead, who is usually crafty enough to slip by a defender 2-3 times a match, managed to do it zero times in the attacking half.
This kind of unsuccessful dribbling rate is unusually low for this side, which may have attributed to Dallas rushing their shots. This could very well be a one off night where things just weren't clicking, and if so, then getting a point out of the match would be a good thing.
Here's to hoping Mauro Diaz recovers very quickly or that Oscar Pareja actually inserts a true CAM into Diaz's role (Mauro Rosales) or straight up switch to a 4-4-2 if Diaz is unable to go.