FC Dallas endured one of those games where things just didn't work. This one reminded me a little of last season's road game against Montreal, almost a year ago where things were going well for Dallas then everything fell apart for a few weeks. That Montreal game also marked the first of the longest (5) road game stretch for FCD, as does this Vancouver match. Dallas created the chances, but did not capitalize on them and both Canadian opponents converted on theirs. Obviously not a direct comparison, but it does have a similar feeling and tone, which is also why most of us here at BigD are not too alarmed and we've seen this before and we've seen how this team can respond.
So while on one hand, we can write this up as just one of "those" games, we do need to give props to Vancouver, particularly Carl Robinson, who seems to have Oscar's number when it comes to game planning. I'll explain a bit more below.
Strength vs Strength, Weakness vs Weakness
We joke around here that Kekutah Manneh is the poor man's version of Fabian Castillo, but it's also a slight nod to the player to his skills and his electric pace. Much like Castillo, Manneh thrives on open space and isolated situations against one defender. The best way to do that is to drop your defensive lines, so Manneh has the space to run on to when he does get the ball. This is why there are times that Oscar Pareja and FCD will play the counter game, in order to maximize Castillo's blistering pace, and lose the possession battle.
Somehow, Robinson was able to not only give his side opportunities to counter but also maintain a slight possession advantage too. The result was seeing Manneh attempt 8 take-ons against the Dallas defense.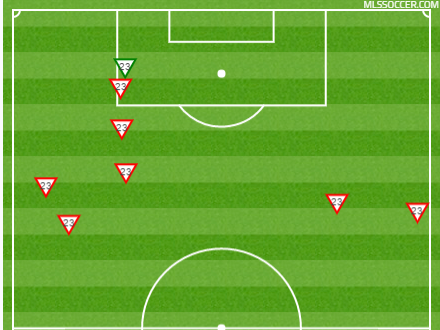 1 out of 8 attempts were successful is not an impressive clip, but the positions he was in to do so made him very dangerous for Vancouver's attack. Not to mention, his passing chart and overall involvement in the game far out shadowed Castillo's: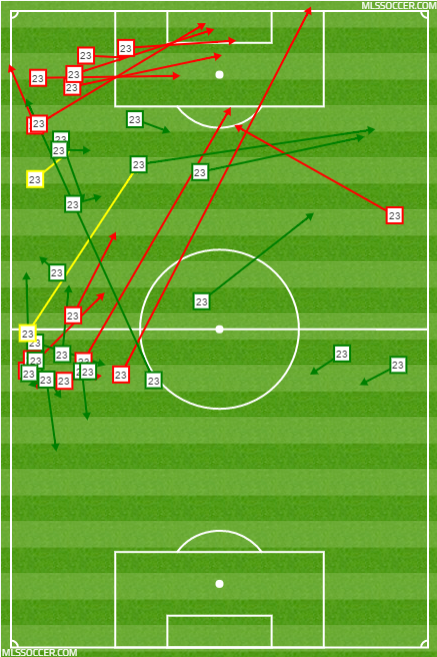 (Above - Manneh's overall involvement. Below - Castillo's)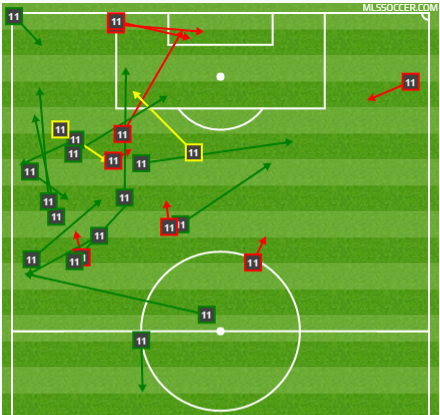 Dallas probably wanted to play for the counter, and hit Vancouver with speed, but the second the Hoops recovered the ball, Vancouver's defensive lines dropped so fast that Pareja's men barely had any chances to take players on.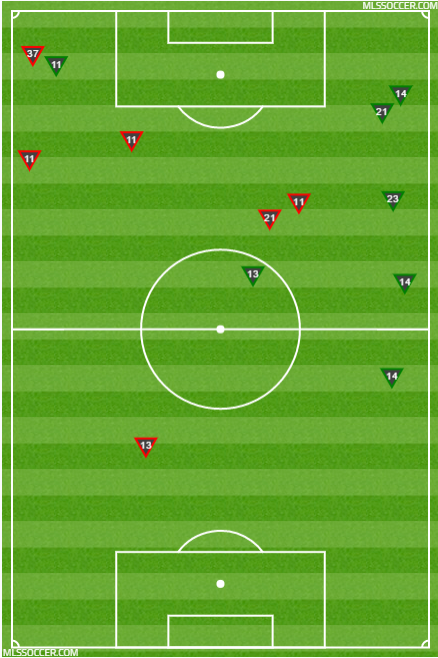 It was actually 27 minutes into the match before Castillo or anyone on the Dallas side to attempt a dribble!
Missed Chances
David Ousted was on another level of soccer last night. It was just his night, and it was all capped off by that vicious Cryuff turn that he pulled inside his own area against a hustling Tesho. Those nights happen, but if there was anything to salvage from this match for Pareja and FCD, it was that chances were created. It would another article if Dallas didn't even manage to test Ousted, but this is the way it happens with soccer. Sometimes, the ball just doesn't go the way you want and you are just unlucky.
In the absence of 70+ minutes without Mauro Diaz, FCD managed to create 11 chances off key passes (passes that lead directly to a shot attempt) and 3 more after Mauro saw the field.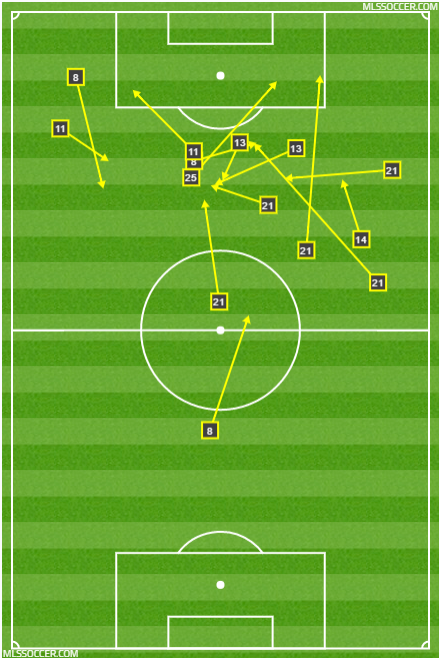 This is a marked improvement for this side that has struggled to find a chance creator when Diaz isn't in the lineup or when the opposition doesn't let Dallas play on the counter. Dallas did go a little trigger happy outside the box, as you can see below, but were probably trying to get Vancouver's defense to step out more so that more space would open up later in the game behind them.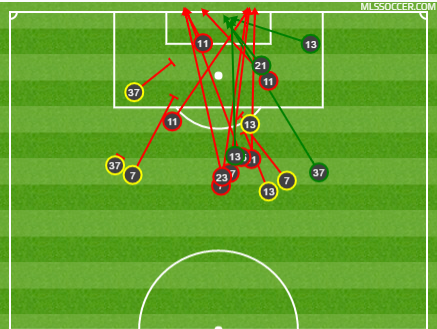 Hopefully Dallas can take these positives and carry them over to their next two matches where picking up points will be crucial if they want to remain in the hunt for trophies by the end of this year.