While FC Dallas has been sitting pretty in the standings with the start of their 2016 campaign, an issue that has been starting to creep up has been the team's propensity to give up the early goal, creating a difficult game state for FCD to climb out of. To their credit, Dallas has done a decent job of regrouping after leaking an early goal and have actually found ways to get something out of matches when they concede the opening goal (1W 2D 1L). What is troubling and worrying is how long can Dallas reasonably sustain this ability to come back from games and what exactly is causing these early goals?
So there is no standard, at least that I'm aware of, of what constitutes as an "early goal". So in my book, I'm defining it as a goal scored in the opening quarter of the first half. So the first 15 minutes. That takes out the SKC goal, which is another set piece goal that was given up, but that's for another post.
So here are my theories on what's going on:
1. Communication
The opening goal from Houston is a prime example of what might be missing from this club:
Keep your eye in the middle of the penalty area where we have three Dallas defenders basically zone marking 2-4 Houston attackers (kind of depends on how you look at it). As you can see, everything kind of went wrong here. Matt Hedges and Walker Zimmerman ended up both closing in on the near post runner, while Atiba Harris took his first few steps to the back post runner, leaving Horst unmarked for a split second. Even Jesse Gonzalez made the mistake of staying on his line, when there was a decent chance he could have gotten there to punch the ball out.
I don't have the audio, so I don't know who said what and when, but it does not appear that Gonzalez called "away", notifying his defenders that he's not going for the ball. Hedges and Zimmerman should have cleared up who was on who and Harris was just left to track two players' runs on his own.
But credit is due to Wenger for delivering that inch perfect cross. I think it was close enough to goal for Gonzalez to get to, but he was served in that area where he had to second guess himself.
But the communication isn't just between the defenders as we saw in the opening minutes against San Jose.
What's concerning in this sequence is how easily Quintero made it into the box completely unmarked. Given that we're only blessed with this camera angle, we can only make some observations, though it's a bit limited.
First, it does not appear that anyone notified Seitz or the defense on Quintero's run. That would be Fabian Castillo's job in this scenario. Maybe he did, and nobody heard. But the lack of response from any Dallas player to check towards Quintero makes me think otherwise.
Second, Kellyn Acosta, being the CM furthest from the play, failed to check his shoulders to see what was behind him. There was some definite ball watching on his part in this goal sequence.
Now it's impossible to be constantly be talking all the time while you're on the field. That's just unrealistic but as this team grows and gets more minutes together as a unit, there's a good chance that these types of misses will be rectified before too long.
2. Early Season Rust
Speaking of minutes together, to a degree, this is almost an entirely new defense that Oscar Pareja is working with. Last year, this teams' back five consisted of Gonzalez in goal, Je-Vaughn Watson at RB, Zach Loyd and Hedges as the two CBs and Ryan Hollingshead at LB. This year, these have been Dallas' starting defense:
Game 1 v PHI:

Game 2 v HOU

Game 3 v MTL:

Game 4 v DC:

Game 5 v CLB:

Game 6 v SJ:

Game 7 v POR:

Game 8 v SKC:

Are you seeing a pattern here? Obviously, some of these changes are forced due to player availability due to injury and international call-ups. But the lack of continuity is also a possible cause for these early goals as the communication and familiarity with one another doesn't translate into as cohesive of a unit. Soccer moves so quickly that if you have to think, then it's too late. That split second thinking about whether you should be marking this guy or not, or whether you should be higher up or not is all the time the opposition needs to break you down.
3. Bad Luck
Like it or not, soccer is also down to a lot of luck. The ball is just placed at the right spot for you, a defender misses and it just falls to you and you end up striking it exactly how you wanted. That's a lot of variables that has to go right for this goal to happen, but it did.
There's really not much Maynor Figueroa could do here. He's man marked Meram tightly. He stayed goal-side the whole way. If Urruti didn't misjudge the flight of the ball and got a head on it, that doesn't go in. And how often have see seen that type of header go way into the stands? More often than not.
Sometimes, the game is just cruel.
But all is not lost. Despite the deficiencies in the defense with giving up early goals, Dallas as a whole has been remarkably successful at responding and rebounding. The chart below (courtesy of Squawka.com) shows goals conceded per game, and as you can see, Dallas is still in the better half of the league.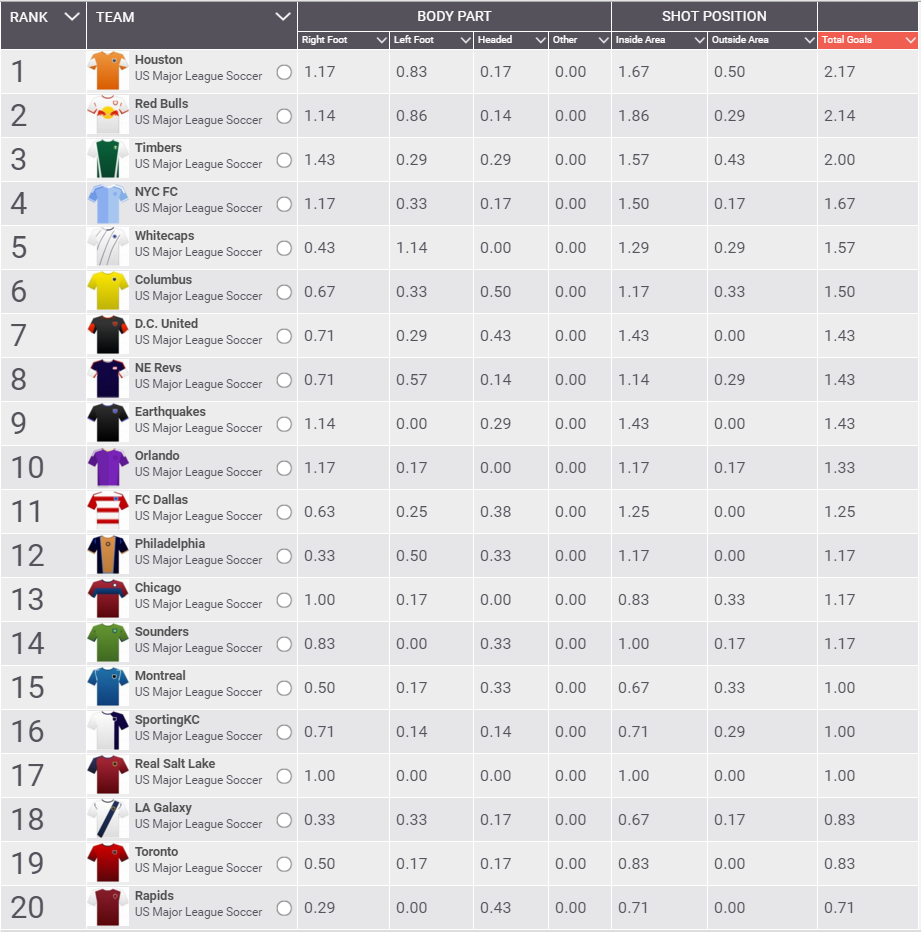 That one 5-0 spanking from Houston really skews this even further. So despite the problems, Dallas is at least responding well and closing up shop quickly after the first goal concession. The real big challenge though is now that we know Matt Hedges is out for the next 5-6 weeks, what will Oscar Pareja do to get through this rough 3 game road trip that FCD has coming next?