FC Dallas continues their trend of starting each year on a hot run as they completed their comeback against a good Sporting Kansas City side, winning 2-1 thanks to a stunning Mauro Rosales free kick goal. FC Dallas are now enjoying a six-game unbeaten run that's propelled them to the top of the standings with 17 points through 8 games and are second in the league with 2.13 points per game.
Despite pulling out all the points in this one, a worrisome trend that seems to be developing is this team's propensity to give up the first and early goal at home, forcing Dallas to have to fight their way back into matches. Thankfully, Dallas has managed to find ways to claw themselves out of the hole and recvoer at least a point out of such situations, but this is something that worth watching as the season goes on.
Zach Loyd

: Underrated Star

In my opinion, Zach Loyd has been the most important player on this team in recent years. (I even voted him as FCD's MVP in 2014 over Matt Hedges.) By now you've probably noticed that Loyd has been deployed in every position across the backline at some point during the two-plus years under Pareja's helm. Typically this a sign that a coach hasn't figured out where this player fits and is experimenting, but in Loyd's case, it's more of a luxury player who can provide you with starting XI qualities regardless of where he is lined up and that will be key as this team continues to seek some silverware this season.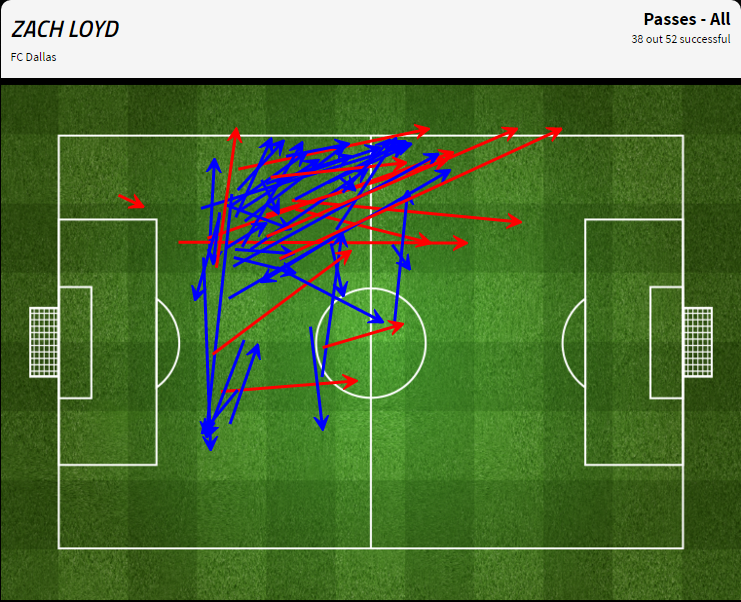 I'm going off memory here, but this might be the first time (or at least a very rare time) that Loyd has played on the left side of the CB pairing. So this was a direct swap for Matt Hedges, who was given the night off, and Loyd honestly made many of us forget we were lacking the captain out there. It did take Loyd a few moments to find his voice and get the backline settled and in rhythm, but otherwise, it was a Man of the Match type performance from Dallas' longest-tenured player for the club.
Loyd was tidy on the ball, as per usual, missing his passes when they were launched further up field. Loyd's always been a strong distributor, but his best contributions has been his defensive scrambling abilities. I think in football terms, that's a corner's closing speed or closing ability and Loyd is currently the best on the team and certainly top 10 in the league in stifling oppositions when things get a little hairy.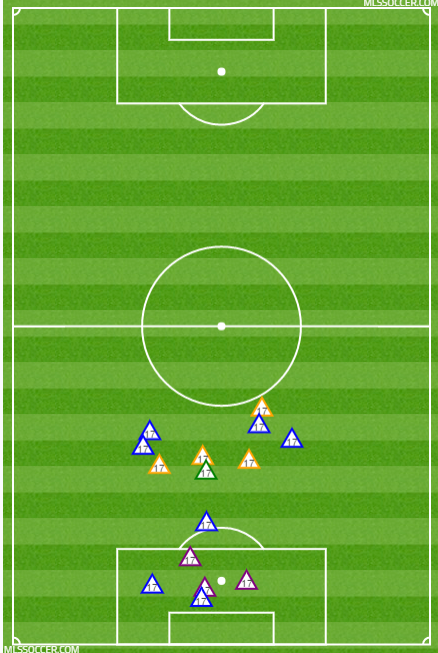 That's 1 tackle (green), 7 interceptions (blue), 4 recoveries (orange) and 3 clearances (purple)
from the veteran defender. In case you're wondering, 7 interceptions is abnormally high for a CB, but it was those defensive instincts that kept Dom Dwyer off the scoresheet. (Yes, he was actually on the field last night.)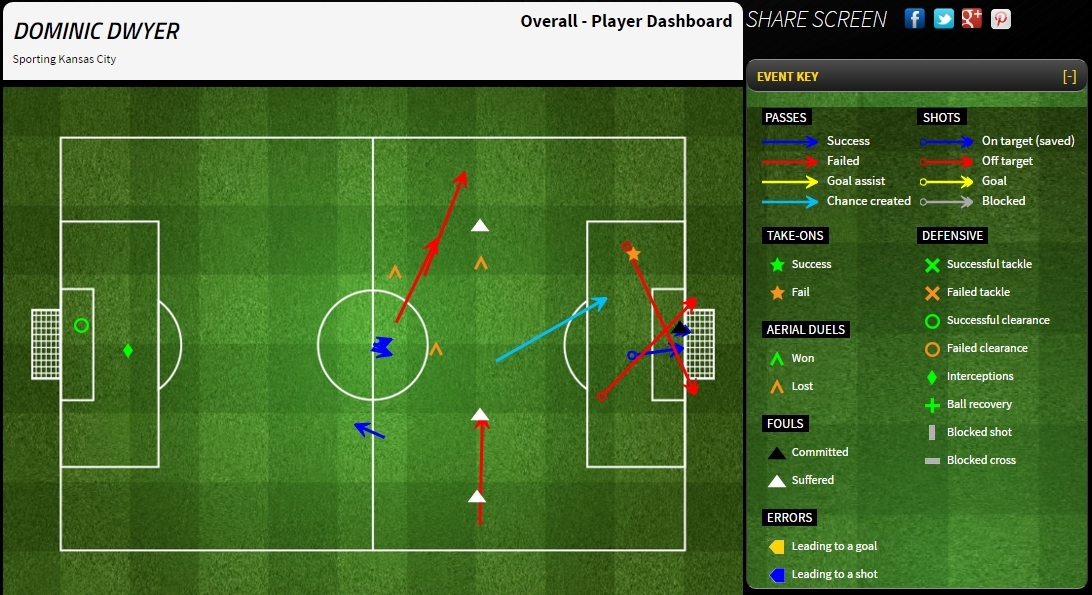 The chart above is all of Dwyer's touches from the match; passes, shots, take-ons, defense, etc. A very forgetable evening from Mr. Sydney Leroux but that's in part to Loyd doing an excellent job covering him.
Victor Ulloa

: Homegrown Captain

When the Dallas lineup was announced and we all saw Matt Hedges absent from the sheet, a few of us started wondering who the captain would be. I thought it was either going to be Loyd of Chris Seitz. I thought there was a very small chance Victor Ulloa would get it, but I thought that was just the romantic in me seeing a homegrown lead the team out like that. But at this stage, it's pretty much solidified that Ulloa is Pareja's Samwise Gamgee and is his trusted companion. Samwise didn't get much love or credit in the first two films but when it mattered most, Ulloa rises to the occasion.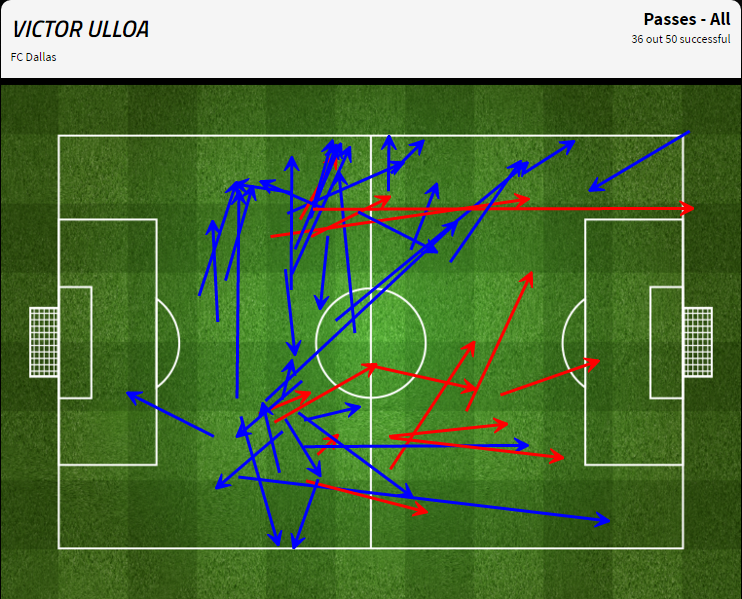 Ulloa has been very tidy on the ball for his career. and acts as a relief valve for the team when under immense pressure. His glaring weakness is going forward, but that's like saying Gimli's weakness is his lack of a vertical leap. Yes, that's true but that's not his best asset or what's required of him to make this team go.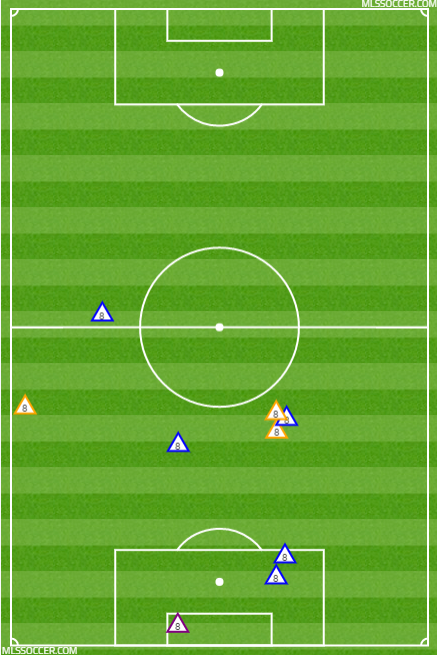 Defensively, he was solid again with 5 interceptions (blue), 1 clearance (purple) and 3 recoveries (orange). MLS's Armchair Analyst went as far as to say that Ulloa has been the league's best d-mid player this year, and I couldn't agree more with that assessment.
.@FCDallas is undefeated (3W 1D) when @ulloa_victor starts in 2016. FCD has 9 goals scored, 2 conceded. #Homegrown pic.twitter.com/bRzJ6T0xMM

— Jason Poon (@jasonhpoon) April 14, 2016
This was before Sunday's match and that streak continues to five matches, with Dallas scoring 11 goals while only conceding 3 in the process. If you're wondering how Dallas performs without Ulloa in the starting lineup, here it is: 1W, 1D, 1L. 4 goals scored, 7 conceded (granted 5 of those came from that game that we shall not speak of.)
I've talked about how will this team cope and adjust without Mauro Diaz, but really, the dialogue needs to be, how will this team cope and adjust without Victor Ulloa?