"Nothing is new under the sun." That basically needs to be the ongoing motto for MLS each year. Oh, you're the defending MLS Cup champions? How about you start the first six games of 2016 with just one win? This tale is all too familiar for those of us who've been around the league long enough (for the more relatively newcomers, welcome!) where we've seen defending MLS Cup champions, Supporter's Shield holders (Hi RBNY!), all either start the following year like they've never played soccer before or just see or the entire year is an incredibly forgettable one. Portland has struggled out of the gate in 2016, whereas barring that one game that we shall not mention, FC Dallas has been great or good to start the campaign.
Dallas has now played three matches without Mauro Diaz and have held serve going 1W-2D-0L in the process, though two of those draws did come at home, where they should have won. But Dallas left Portland with an all important three points from a Western Conference rival and exercised some demons in the process - picking up their first win in the Rose City since ever.
Here's how things shifted for Dallas on Wednesday to making Wednesday night a three point party:
High Press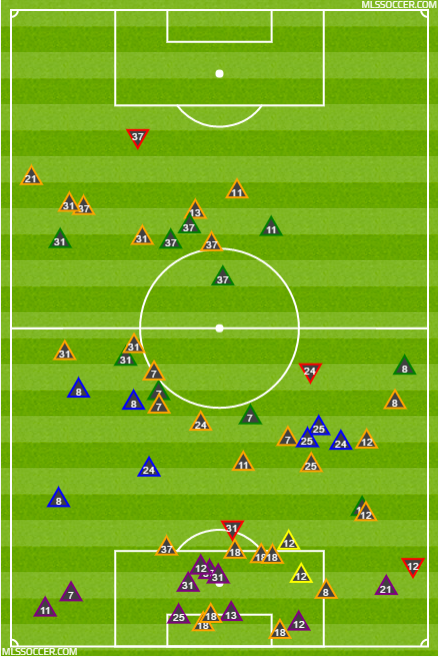 (Green - Successful tackle, Orange - Recovery, Blue - Interception, Yellow - Block, Red - Unsuccessful tackle)
Look at how high not only did Dallas press, but also forced turnovers and defensive actions inside Portland's half. You may notice seeing Maxi Urruti's number quite a lot in that area, with three tackles (two which led to Dallas goals), and a couple of recoveries.The press worked as Portland's ball carriers were too casual on the ball and the ball hawking speed of Urruti, Tesho Akindele, Fabian Castillo and Michael Barrios paid dividends into scoring chances rather quickly.
Some of you may be wondering why Pareja didn't opt for this against Columbus and San Jose in the previous weeks, and those early goals that FCD conceded played a major part. Barrios' opening goal was due to Dallas' high press, and then changed the game state and how both teams approached the game.
Here's a gif of Ulloa executing the high press to perfection:
Start Ulloa
Speaking of Victor, Ulloa needs to be on the starting XI whenever he is healthy. Watch the gif a few times and notice how he casually followed Ned Grabavoy. Once the incoming pass was played, he pounced to close the space and did not allow Grabavoy to turn, forcing him to play it back where Dallas already had Tesho and Maxi in place to win the ball back. That kind of timing and defensive pressure will not show up on a stat sheet, but that's what Ulloa brings.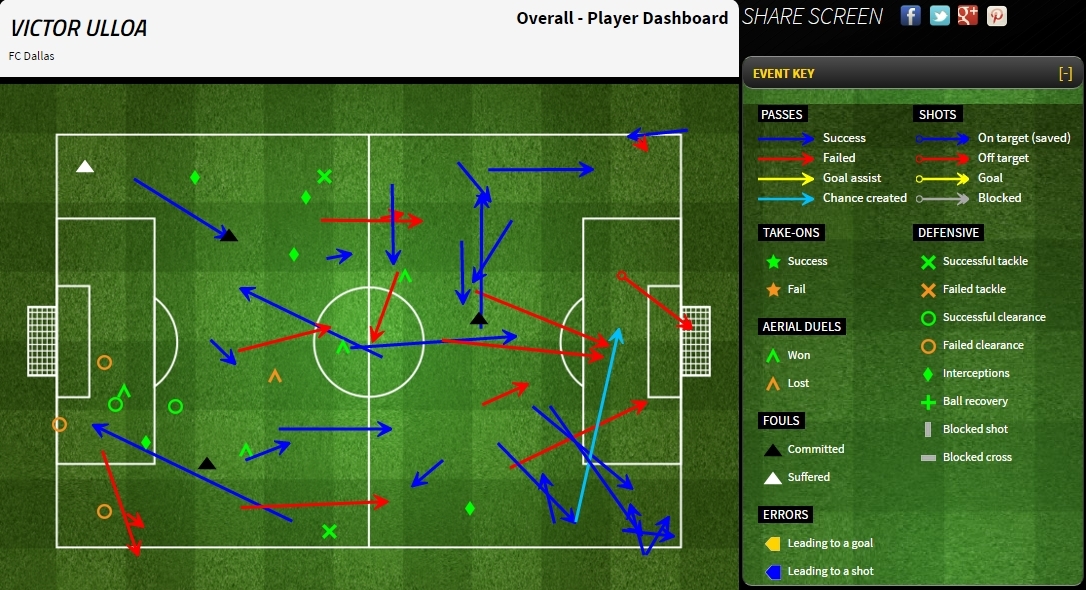 Ullo had a pretty effective night both ways. For a defensive mid, he didn't pass the ball back very much (twice) and managed to force Portland into seven turnovers (2 successful tackles and 5 interceptions). But just like that press on Grabavoy, Ulloa's best asset is his defensive positioning and how he protects the back four and covers when Ryan Hollingshead pushes up. There's little flash to his game, but for a DM, you want the substance that Ulloa brings.