FC Dallas remains unbeaten in their last four thanks to a Victor Bernardez own goal last night. While the unbeaten streak is better than being winless, the two recent draws at home were four total points dropped that Dallas might rue come late October. Mauro Diaz continues to be sidelined and Dallas has continued to struggle to find their offensive rhythm without ther Argentinian playmaker.
Still Shooting Aimlessly
The Hoops continued to fire plenty of shots towards San Jose's goal, just like they did last week against Columbus, but generally failed to test Earthquake keeper David Bingham by just managing four shots on target (which includes Tesho's penalty). Dallas attempted 19 shots this week, 21 last week but still only managed four shots and five shots on target respectively and really only scored 1 goal a piece in each game.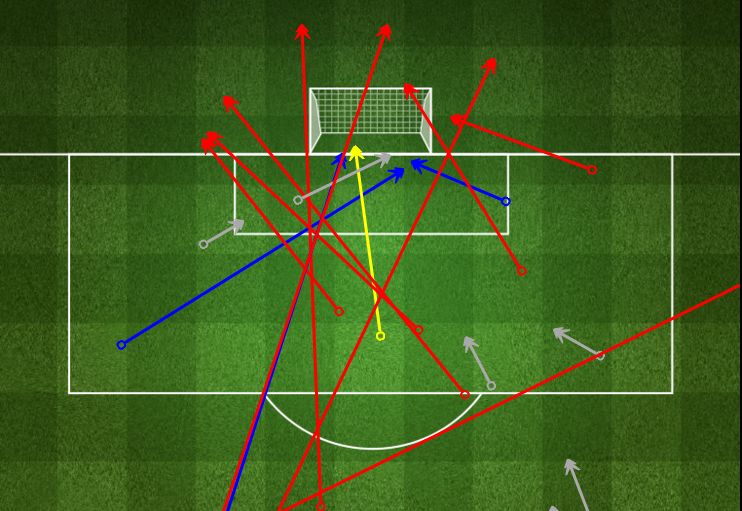 Unfortunatley for Dallas, Columbus basically handed San Jose and the rest of the league a solid blue print on how to stall Dallas' lethal attack (for now) by inviting Dallas to have the bulk of the possession and hitting FCD on the counter. Basically teams are figuring out that withou Diaz, Dallas does not possess a player capable of unlocking a defense committed to setting up two low blocks of four.
Marvelous Marvell
It wasn't too surprising that Oscar Pareja subbed off Fabian Castillo for the second straight match. Castillo has strugged to regain his scintilating form that earned him call ups the Colombian national team last year, however, for last night, a large part of that had to do with Marvell Wynne doing a marvelous job shutting down the Dallas winger.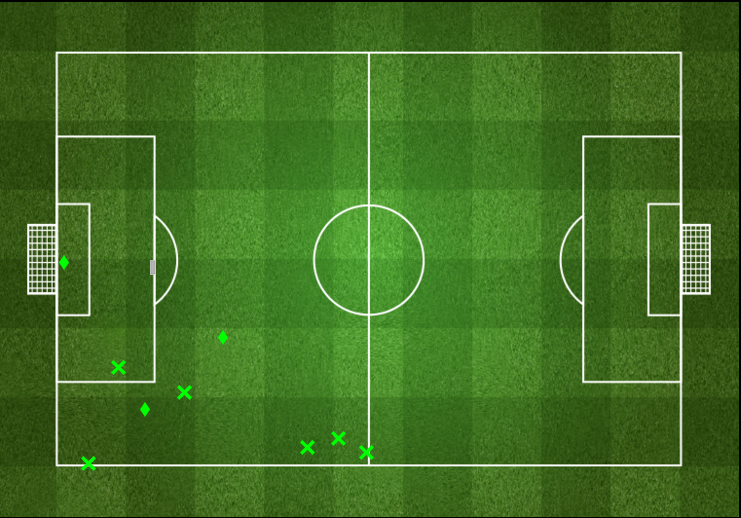 (X - successful tackle, diamond - interception)
As you can see, Wynne didn't register many defensive actions but when called upon, he really kept Castillo in check and stopped the Dallas attack down the left flank with six successful tackles and three interceptions. Interestingy enough, Wynne didn't register a single clearance, meaning Dallas failed to apply enough pressure down that left flank to make Marvell do some last ditch defending.
Castillo's evening was limited to this: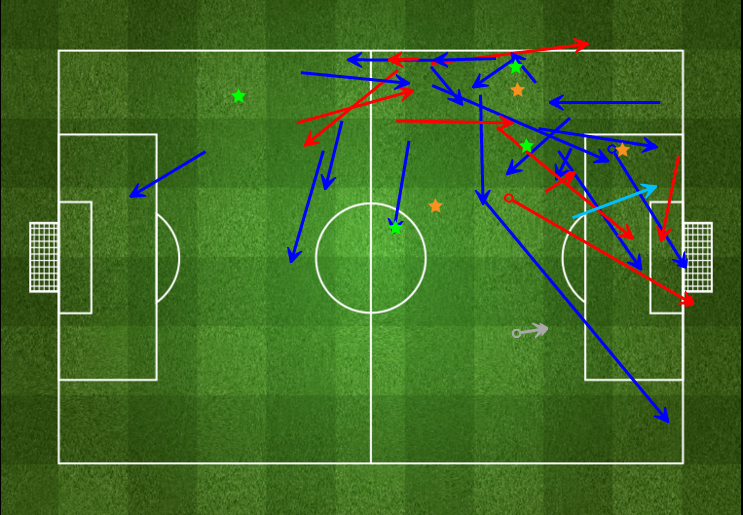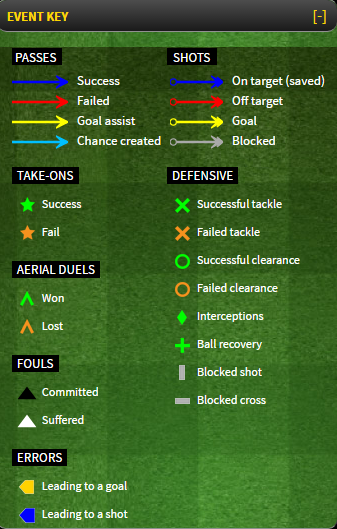 So as you can see, Castillo managed to get three shots off, which is a pretty average night for him but in the absence of Diaz, Castillo really needs to provide more than what he has in the past couple of games. Nothing from his performance from the past two matches were particularly bad, but Castillo has not stepped up in the way Dallas fans have hoped for.
Dallas has a very quick turn around, heading up to Portland to face the Timbers on Wednesday before returning back to the comforts of Frisco agains Sporting Kansas City on Sunday. Dallas will need to sort their offense out quickly, otherwise this unbeaten streak will soon become a winless streak in a week.