Season opener wins seem to be a growing tradition around these parts. Overall, FC Dallas played a very clean game, controlling the tempo for much of the game and kept the ball out of Jesse Gonzalez' net. If it weren't for Andre Blake's herculean saves, the scoreline could've been 5-0, or even 6-0 easily. Despite starting three new players into the opening lineup, this team looked nearly in mid-season form already and very easily claimed the precious three points to start the year.
Strong Debuts
Let's start with the obvious talking point, Maximiliano Urruti, who made excellent runs all afternoon and scored the second goal to seal the victory. I've written that I think Urruti has what it takes to lead the line for Dallas this season, but my one reservation about him was that I wasn't entirely clear about his defensive work. The concern wasn't that I thought he was poor, it's just that I didn't know. The only reason why I'm concerned about a striker doing defensive work is because of how much his club had relied upon Blas Perez to just that, especially on defensive corners. Perez's work rate was second to none for this club for the past four seasons and would Urruti be able to contribute there too?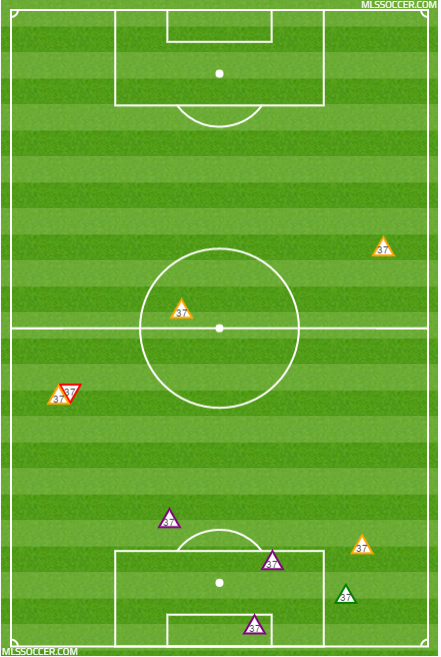 If this debut is what we can expect to see from Urruti for the season, then Dallas will be just fine as he logged in 3 clearances (purple triangle), 4 recoveries (orange triangle) and 1 tackle. Urruti is a good finisher and the goals will come. The bonus and what will make him a fan favorite will be the added hustle and determined work on the defensive end too.
The big off-season signing this past winter was Carlos Gruezo who impressed in his debut. Gruezo is known to be an excellent ball winner and also someone you can rely on to cycle the ball to the right people and open spaces. While he wasn't as clean on the ball as Victor Ulloa, Gruezo's debut as strong nonetheless.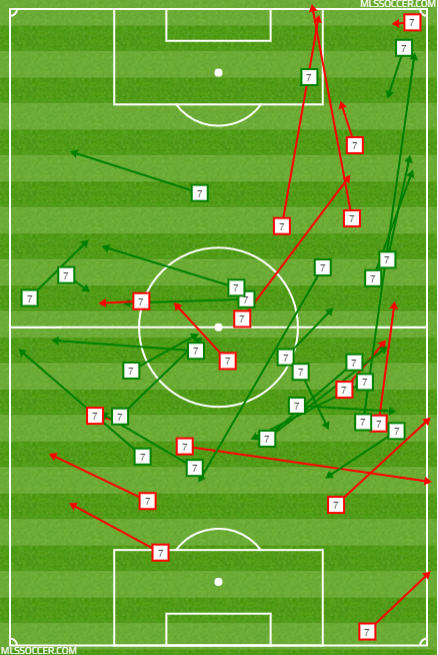 Not captured here is Gruezo's passing combinations with his teammates. His top three teammates that he passed the ball to? Diaz (5), Barrios (4) and Castillo (3). Me thinks this kid is going to be just fine in Dallas.
Gruezo didn't disappoint on the defensive side either, putting in 3 tackles (green triangles), 6 recoveries (orange triangles) and 4 clearances (purple triangles).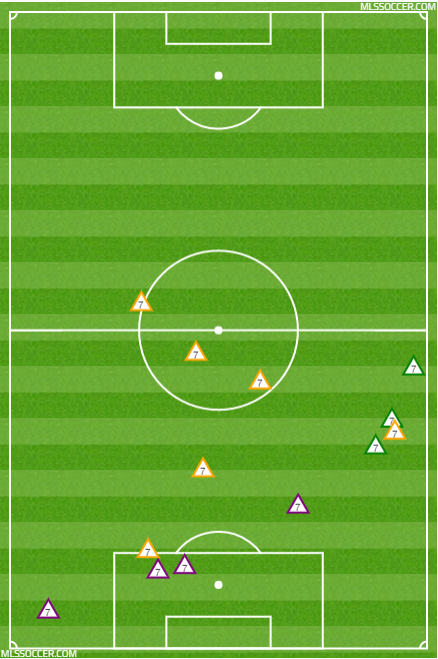 But you know who I was quietly impressed with the most? Maynor Figueroa. Figueroa made a surprise start at the left back position and actually saw the ball more than anyone else on the team. Maynor did all the little things right; getting the ball to Mauro, keeping his defensive position to let Harris overlap on the other side, and winning the ball quickly and cleanly whenever he could.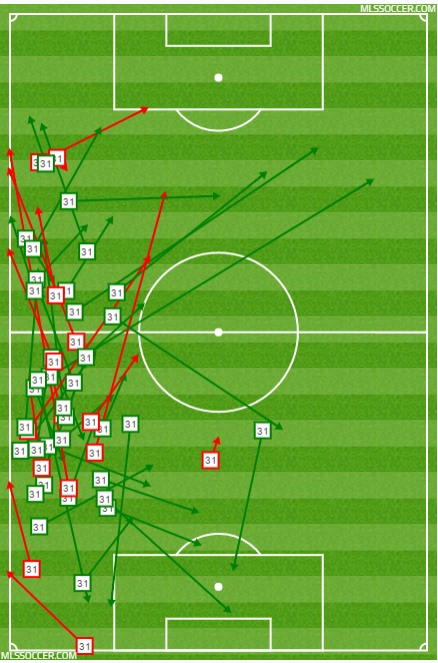 Figueroa completed 35 of 48 pass attempts, including several well placed switches to change the point of attack. Defensively, he was just as strong: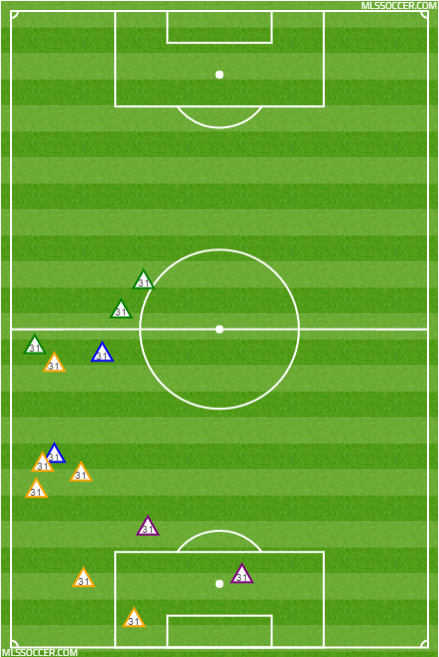 2 clearances (purple triangles), 6 recoveries (orange triangles), 2 interceptions (blue triangles) and 3 tackles (green triangles).
Attack the Wings
Especially if the side you're attacking is being defended by Fabinho.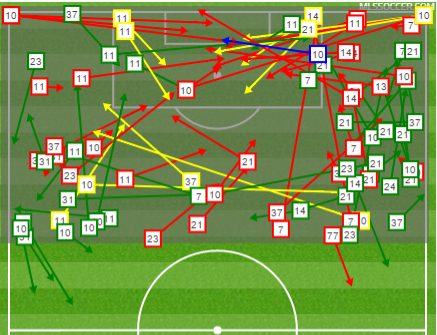 Dallas found joy along the flanks (as per usual) against the Union on Sunday. More impressively was how Michael Barrios and Atiba Harris routinely went after Fabinho on the right side and made him look like a glorified traffic cone in practice. Credit to Oscar Pareja for identifying the Union's weakness and exploiting it.
Clean Sheet
A defender's primary job is to protect the goal at all costs, secondary would be to win the ball back and third is to provide any kind of offensive help. When a defensive unit manages to hold the opposition to just two shorts on target, making sure Jesse Gonzalez barely needs to break a sweat, then you know you've done your job right.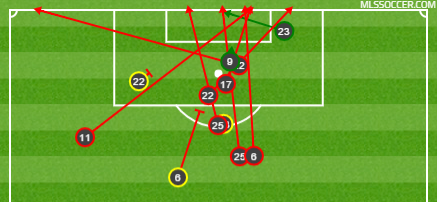 I'm sure Matt Hedges, Harris, Walker Zimmerman and Figueroa would like to address some of the chances they gave up. But considering this is the first time they're playing any kind of significant minutes together as a unit, they must be happy with the clean sheet and hopefully they can build on this type of performance as the season continues on.