On Saturday we saw FC Dallas surge past a struggling D.C. United side, despite missing seven players (three starting defenders and a goalkeeper), and put in their most tactically sound performances of the season. Oscar Pareja surprised everyone by starting Aaron Guillen, traditionally a centerback, as a left fullback and opted to help make things easier for the MLS debutant by ensuring his side give up possession and drop deep to make sure the ball was always in front of the young defender.
But that wasn't all that Pareja did that was a surprise. Papi crafted a defensive game plan, utilizing one of his best offensive weapons as a defensive shield to pick up all the points for Dallas.
Bait and Switch
If you're Ben Olsen and you looked at the Dallas defense, where would you call the weakest link? You've got Ryan Hollingshead defending the right with Zach Loyd on that side of the middle of the defense. You definitely don't bother trying to go through Matt Hedges. So the logical option is to test the converted CB Aaron Guillen who's not only makng his first MLS start but also seeing his first MLS minutes too. So down Dallas' left side it is for the attack.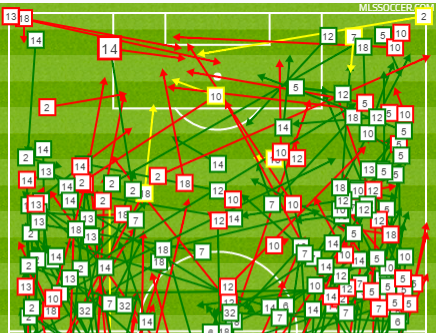 (DC's passing chalkboard in the attacking half before Marcelo Sarvas' red card. Green = successful pass. Red = unsuccessful pass. Yellow = key pass).
As you can see, DC preferred going down their right side with Sean Franklin (#5) overlapping down the right flank in attempts to overload and put pressure on Guillen. On paper, that looks like bad news, especially since Guillen's midfield partner is Fabian Castillo and he's often given the license to focus squarely on attacking and to reserve his energy when the team is defending. Funny enough, Pareja coached the young Colombian international winger to commit fully on the defensive side and the result was this: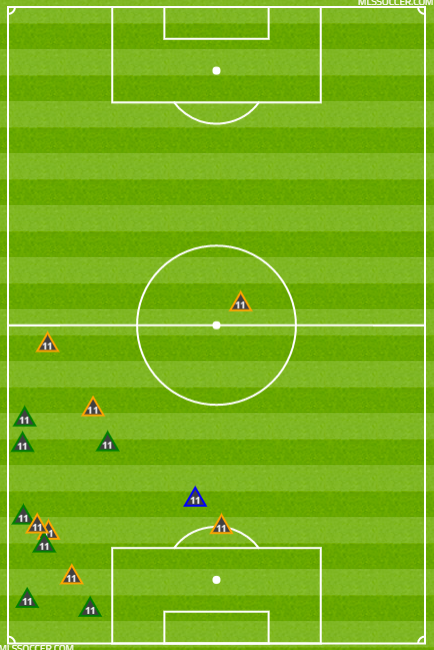 (Green = Tackles, Orange = Recoveries, Blue = Interceptions)
Yes, you are reading that right. The lethal, attacking left winger put in a team high seven tackles. Not to mention they all came inside the Dallas half, with four coming from inside the defensive third too. If it looked like Castillo was absent on the attack, now you know why.
In 2015, Hollingshead would man the left flank by himself, freeing Castillo to just attack and it seemed like DC United was counting on that tactic again. Instead, Castillo dropped way deep to match DC's numbers, giving Dallas more balance on the left flank for this match.
Run Barrios Run
With Castillo commiting his runs to win the ball back for his teammates, this meant that the responsibility of providing speed on the counter was going to have to come from Michael Barrios, and boy did he deliver.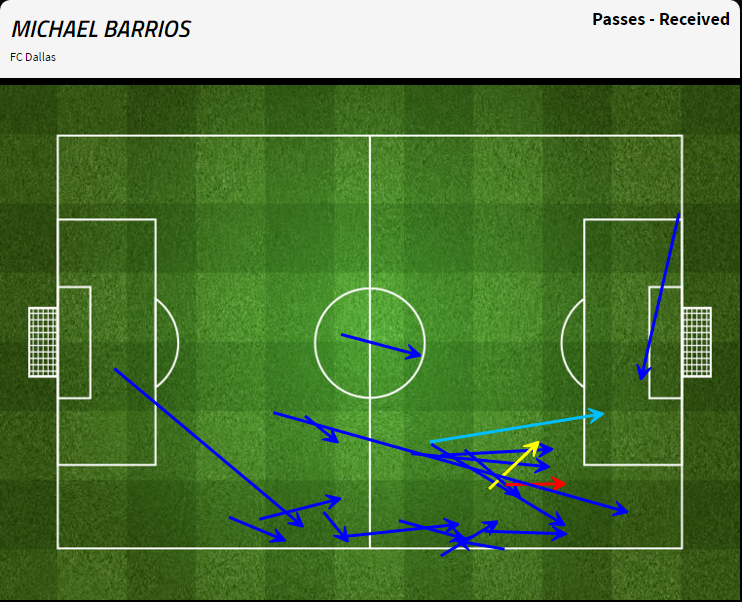 The chart above shows where the originating pass came from and where Barrios received it. Note how high and wide Barrios was, giving Dallas some serious offensive threat when they had the ball.
When Franklin pushed up the field, it forced DC's defensive line to shift over to cover for the space that Frankling left open. Dallas has two options here when they win the ball, either overload their left side by shifting Diaz over to start creating mismatches or switching the ball completely over to the right side, to try to stretch DC's defense even more. Dallas opted for the latter which resulted in Barrios' runs and also where Diaz got the ball: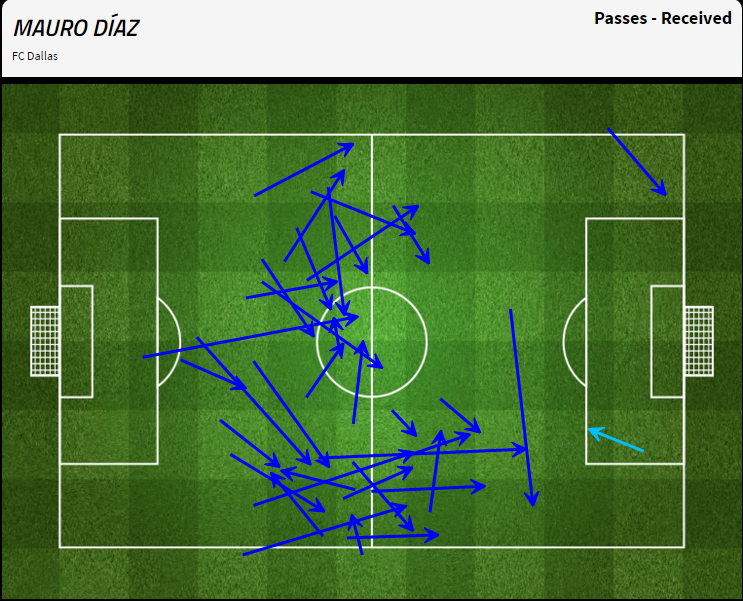 It was a gamble for Pareja to start Guillen on the left, to instruct his high power offensive winger to sacrifice himself and commit his energies to defending, but in the end it all paid off with Pareja outcoaching Olsen in this one, giving Dallas a rare victory in the nation's capital (last victory in DC was August 14, 2010).