What a difference a week, two goals, a clean sheet and three points can make. After suffering through the game that shall not be named last week, FC Dallas responded with a much better defensive performance against another club, the Montreal Impact, that's been scoring goals for fun, just like that team that shall not be named. Road games are incredibly difficult and wild to predict in this league, so picking up three points is vital if Dallas wants to make another challenge at the Supporter's Shield again this year, and with solid defensive performances like that from FC Dallas, te chances do look good.
Slowing Piatti
The hot player from the Montreal side was Igancio Piatti, who's been pulling the strings for the Impact attack. Where Dallas failed to contain Maidana last week, Dallas did the opposite on Piatti this week and kept him relatively anonymous for most of the match.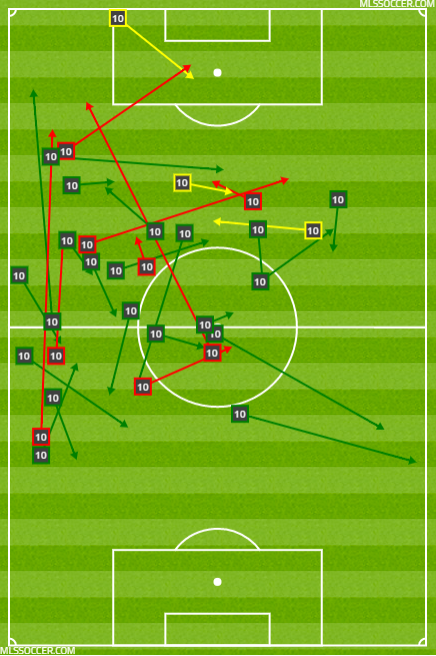 (Green = successful pass. Red = Unsuccessful pass. Yellow = Key Pass.)
Above you see Piatti's passing chalkboard which aside from that one key pass inside the penalty area, he was largely kept at bay and away from Jesse Gonzalez' goal. This was a team defensive effort, but it's worth pointing out Victor Ulloa's contribution to keeping Piatti's influence to a minimum with his solid defensive display last night.
Defensive Improvement
The goals will be highlighted elsewhere, and rightfully so, but what caught my eye was the much stronger defensive showing from Dallas. I mentioned Dallas' work to shut down Piatti above, and the end result looked like this: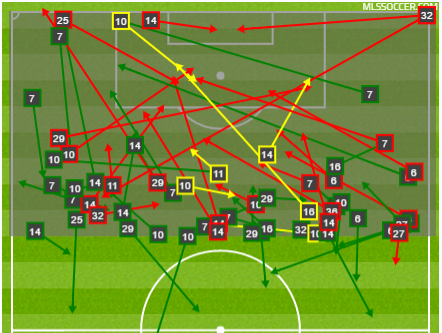 (Green = successful pass. Red = Unsuccessful pass. Yellow = Key Pass.)
Montreal's passing inside the final third was average at best, and rarely stretched the Dallas backline in any way shape or form. The end result of those passes, led to just these kinds of shots: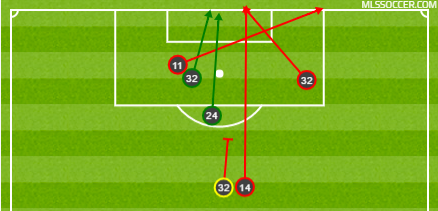 (Green = shot on target. Red = shot off target. Yellow = blocked shot.)
A couple of them forced strong saves from Jesse Gonzalez, but both shots were sent directly at Jesse and were relatively easy to handle for the young keeper.
Improving Offense
The FCD attack was sputtering along for the first 80 minutes, and credit to Laurent Ciman who was basically the best defender this team will ever face this year. Ciman dispelled nearly every Dallas attack with ease and it took a wonderful free kick from Mauro Diaz to get on the scoreboard. That being said, Ciman's heroics aside, here's where Dallas did improve on: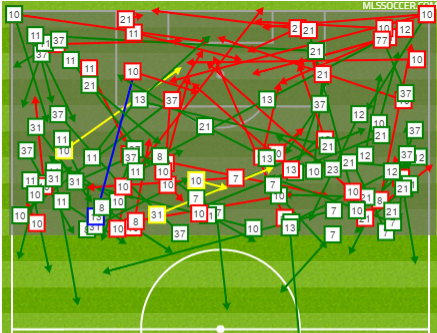 (Green = successful pass. Red = Unsuccessful pass. Yellow = Key Pass. Blue = assist)
It's pretty rare to see a team with this many passes inside the final third to struggle finding the back of the net. Ciman can be blamed for that. But finding ways to move the ball and change the point of the attack, when the opposition is cutting off the passing lanes and closing down spaces, is a huge advantage. While this kind of possession netted Dallas 15 shots, the quality of the shots were definitely left wanting: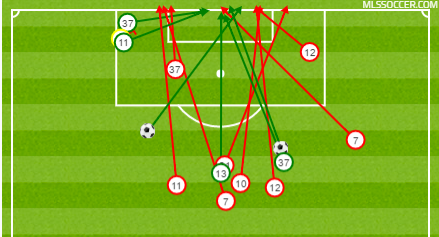 (Green = shot on target. Red = shot off target. Yellow = blocked shot. Soccer ball = goal)
Scoring two goals is better than scoring none, but Dallas cannot rely on their chances coming from 25-30 yards away from the goal. I blame the need for long range shots on Ciman, but I'd be slightly more concerned if this trend continues.