FC Dallas dropped the first of at least three matches against the Houston Dynamo in the most embarrassing of fashions. The only way this could have been worse, is if our captain scored in our own goal.... Oh wait. The Dynamo crushed Dallas 5-0 on Saturday night, and completely suffocated the Dallas attack with excellent tactical acumen and clinical finishing. It's been rare where I publically declare the opposing coach beat Oscar Pareja, but credit to Owen Coyle for preparing the Dynamo on how to limit the Dallas attack and make this FCD team look like the 2013 DC United side.
Impressive Maidana
Cristian Maidana was Houston's best player (before he was subbed out for Maynor Figueroa's reckless challenge) and the chalkboard above shows why. The graphic shows the passes he received, and as Houston's #10 Maidana did everything right in terms of finding the gaps between the lines. In fact, Maidana avoided the CDM combo of Kellyn Acosta and Carlos Gruezo by basically drifting wide and overloading the FCD fullbacks. The times he did get the ball centrally? He was already in behind Acosta and Gruezo and was looking to play that final killer pass.
The biggest concern though is that this provides a good blueprint for opposing teams to exploit FC Dallas in future games. Oscar Pareja will need to figure out how to mitigate opposing #10s from doing this again, otherwise this will be a long season.
Missing Mauro
Where Maidana was excellent for the Dynamo, Mauro was fairly absent for Dallas in this contest.
Mauro Diaz was a pedestrian 10/23 passing into the final third on Saturday night, with one lone key pass. Houston swarmed Diaz quickly and did well to block off any potential passing lanes, and Mauro didn't react quickly enough to get the ball off his boot fast enough to spread the defenders out. An overall, very disappointing night for the Magical Little Unicorn.
Defensive Perfection
It's not just the clean sheet that Houston put up that was impressive, nor the fact that the Dynamo forced Dallas into this kind of shooting performance that caught my eye: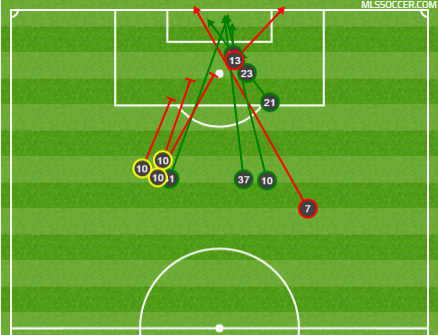 But really it was how they snuffed out every possible chance that Dallas had before it began. Take a look at their tackles:
And then their interceptions:
Houston basically controlled the middle, completely negating Mauro Diaz (a really hard feat to do) and forcing turnover after turnover from the Dallas attack. If it felt like Dallas couldn't complete a take-on or string together more than 2-3 passes at a time, then this will validate that thought for you.
Houston was tactically very disciplined on defense, putting the right number of bodies onto the ball carrier and defending the spaces with the right angles. Not shown here, but they also put the right amount of pressure on Dallas' right side, recovering the ball 9 times deep inside Dallas' half. This is significant because that was the side that Dallas attacked the Union last weekend, and no they may have been too predictable in this one.
This was painful, on almost every account. Here's hoping that Oscar Pareja and right this quickly as a surging Montreal Impact, who destroyed NYRB 3-0 without Didier Drogba, are coming to town and look like legit MLS Cup contenders this year.