Our own Taylor Hester said it last night, and I think it captured the essence of the game last night:
The Homegrowns vs The DPs. This is basically a battle for America's soccer soul.

— Taylor E. Hester (@taylorhesterFC) September 28, 2015
This was essentially a battle between two differing soccer philosophies with LA being the gold standard with their abilities to attract international stars and Dallas opting a more organic approach in producing their own talent and pipeline. (Not to say LA doesn't do that too, as their academy is also tops in the league too.) Bruce Arena is a masterful coach and he clearly gets his team operating at their best when he has three big DPs at his disposal, whereas Oscar Pareja has preferred youth and developing his own talent. This is not an argument about which philosophy is better than the other, although you could argue given the result of last night's match that LA's has the upper hand, but rather a stern reminder that Arena's methods are established and Pareja's is still a work in progress. Let's not forget that we're only in year two of the Papi era and frighteningly still in the rebuilding process.
What's been damning for this club as of late has been their defense. Of course a front line of Giovanni dos Santos, Robbie Keane, Sebastian Lletget and Gyasi Zardes is plenty scary but if Dallas is going to make a statement as an elite level club at this level, their defense needs to hold better than they did last night.
Galaxy Toys with Dallas Defense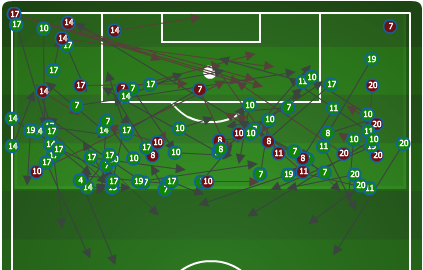 You can argue that Dallas did an OK job of keeping Galaxy players outside and around the penalty area, but this where they thrive the most. The movement of their front four is designed is sit outside the box, make dummy runs, cause confusion and then get in behind. LA did exactly what they were trained to do and were very careful in protecting the ball and basically playing keep away from Matt Hedges and Zach Loyd all evening. LA was a very clinical 68/93 (73%) with their passing inside the final third and that front four was even better as they went 46/59 (77%).
The good news here is that this gave Dallas' front four a basic blueprint of how they should be playing. The beauty of Lleget, Keane, dos Santos and Zardes is their interchangeability. Dallas' front four last night could also pull that off.
Dallas' Best Lineup?
Perhaps we got a glimpse of Pareja's best lineup last night, at least in terms of the attacking pieces. With Tesho Akindele, Fabian Castillo, Michael Barrios and Mauro Diaz, Dallas was able to mimic LA's attack, at least in terms of their interchangeability to confused opposing defenses.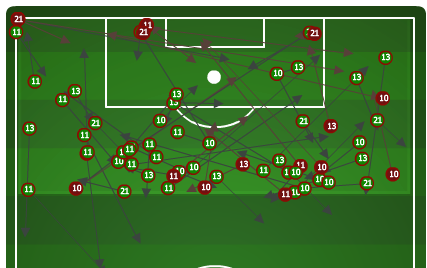 Just pick any player and begin looking for where their passes are happening. You see Tesho on the right, on the left, down the middle. It's very difficult to pick up your runners when defending against players like this. Obviously it's still a work in progress but I hope Dallas will stick with these four the rest of the way.
Growing Pains
If people were wondering why Pareja was taking his team integrating Ezequiel Cirigliano into the team, we now know. Even though his passing and ability to get the ball to Mauro Diaz was a welcome sign (47/52 passing - 90%), his positional awareness and defensive bite was left wanting.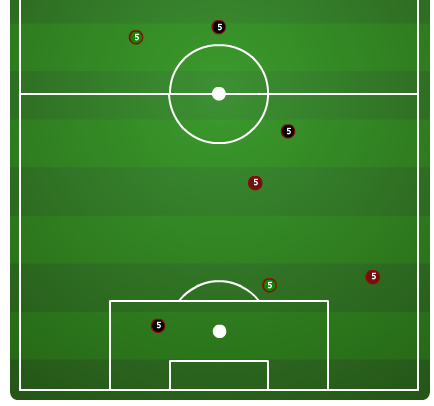 Above are all his defensive actions of the evening. 3 recoveries (noted by the black circle), 2 unsuccessful tackles (red), 1 successful tackle and 1 clearance (both in green) and 0 interceptions. For a player designated as a true Defensive Midfielder, his lack of tackling in this match was problematic. His reads were a second or two too slow and he was constantly late getting stuck in.
Of course, this is a new team he's trying to integrate into and also to a new league as well, so there's bound to be games like this. However, for Dallas' sake we better hope his ability to adapt and adjust is a quick one. Otherwise we best be praying to the soccer gods that Victor Ulloa and Kellyn Acosta stay healthy the rest of the way.