Perhaps one of the more fun aspects of head coach Oscar Pareja (or annoying, depending on who you are) is the ever changing lineup, formation and tactics of this team. It appears this club is getting more comfortable rolling out different formations whether the 4-2-3-1, the 4-4-2 and now the 5-3-2 depending on the opponent, the personnel available and the match ups. Obviously, not all of them work out but I will continue to believe that this level of variety and ability to remain flexible will help this team in the long run.
FC Dallas came out with a very interesting 5-3-2 with what looked like Je-Vaughn Watson and Atiba Harris serving as wingbacks which on paper sounds like a pretty good option given their past history as wingers/strikers before their transition to defense. What did not work though was finding enough time on the ball to allow either one of them to press forward. Sporting Kansas City's high press flustered the Dallas possession and the Hoops had to resort to unsuccessful and hopeful long balls which SKC's back line snuffed out quite easily.
Points dropped is never a good thing, especially this late in the race for the Shield and how tight the table is up top. Thankfully just about everyone did Dallas a solid this weekend and everyone (minus RBNY who have yet to kick off) lost their games.
Bend And Break
The first 45 minutes of this match up was a snore fest and that was a good thing as far as Dallas was concerned as they got into half time at 0-0. The defense (which was all 11 players to be honest) did their job of keeping SKC away from Jesse Gonzalez for the most part, limiting them to five shots despite having an overwhelming advantage in possession.

It's fine to give up possession as long as the result is shot limitation and keeping the ball away from goal. Dallas did a decent job of that, although SKC's 271/342 passing is a bit alarming.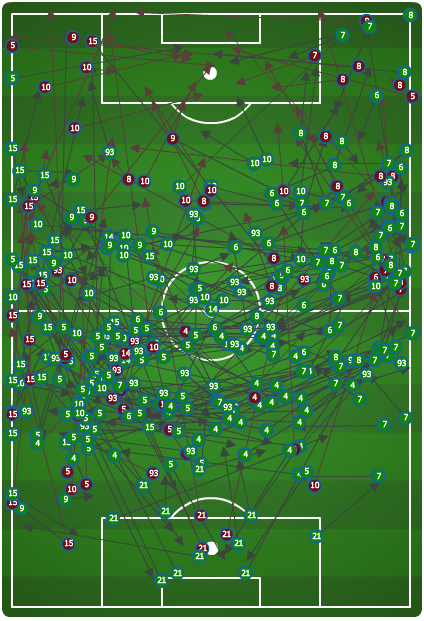 But SKC was an average 23/43 inside the final third which is about what you'd hope for in this bend and don't break style of play. Where Dallas faltered though was when Pareja decided to roll the dice and see if the team could take all three points from this one when he substituted David Texeira out for Fabian Castillo. The Dallas defense were unable to limit shots and the floodgates began to open up as evidence of the higher volume of shots that were attempted and made it through to Jesse Gonzalez.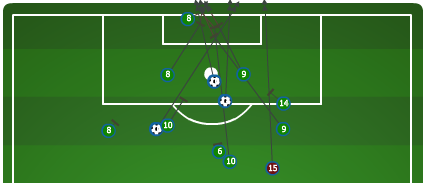 Solid Debut
A positive though is that we got to see Ezequiel Cirigliano get the start and put in a good 64 minute shift. It's unfortunate that what he will probably be remembered for the evening was being wrong footed by Benny Feilhaber and bringing him down just outside the box before Feilhaber found the back of the net on the ensuing free kick. (Which was masterful by the way and something that the USMNT could use but that's for another time.)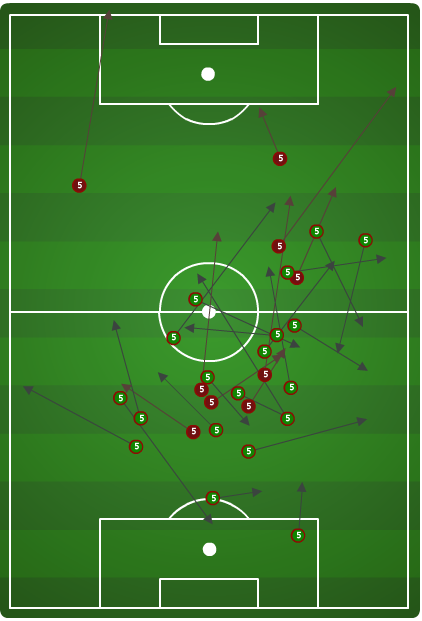 His passing chart wasn't bad, given the set up Dallas used with him anchoring the midfield. He played very deep and centrally and did a decent job with his distribution (19/28) and looked very much a player that could have a significant role on this team for years to come.