The BigDSoccer staff (mostly) predicted that the speed of Fabian Castillo and Michael Barrios would run circles around the NYCFC defense and fir the first 45 minutes, that was largely true. Fabian Castillo found so much space and got himself on 1v1 situations that there were moments that I wasn't sure if Jason Kreis even bothered telling him team who was who and who to pay special attention to. (If he did, then that was just a testament of how bad NYCFC's alleged defense is.) But after a strong opening half, capped off by two scintillating goals from Tesho Akindele and an Olimpico reprise from Michel, things faded very quickly and suddenly in the second half for Dallas. Thankfully Dallas had just enough to hold off New York City and escape with a vital three points.
What's "Defense"?
FC Dallas got off a season high 14 shots in the opening half against NYCFC, with Castillo leading the way with all of his four taken inside the penalty area.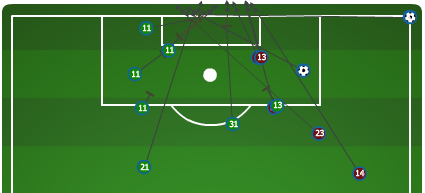 Dallas was probably unlucky not to find the back of the net at least a couple more times on those shots, but the intent was clear, Dallas was going to overload the right flank and isolate Castillo as you can see from the passing chart below featuring David Texeira, Tesho Akindele and Michael Barrios.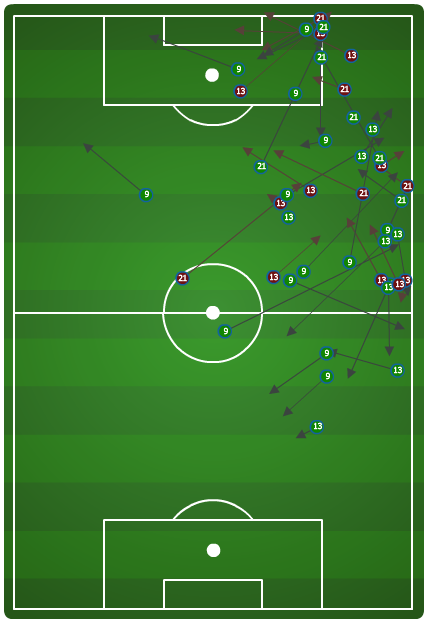 Obviously Dallas couldn't sustain such  an overly simplistic game plan for a full 90 and Kreis's team made the adjustments.
Ugly Soccer
To be honest, I expected Dallas' atrocious second half display yesterday to be what we would see against Columbus Crew last week. NYC made some adjustments, one being pressing Dallas a little higher forcing them into launching the ball into no one. If it felt like Dallas couldn't connect a pass to save their lives in the second half, here's some proof: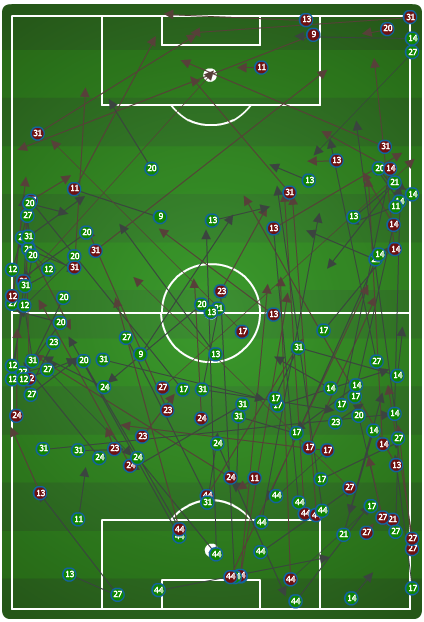 The Hoops completed just 91/143 passes in the second half, good for an embarrassing 64%. Not counting throw ins, Dallas completed just three passes in the final third.
NYC stepped up their lines by about 5 yards which not only enabled them to press the ball better, but it also put them into better defensive positions to win those 50/50 balls better. Just compare their recoveries between the two halves and how they were able to do it in more advanced positions:
Those 14 shots that Dallas mustered in the first half? Drastically reduced to an abysmal two in the second half.
Penalty Problem?
Over the past couple of seasons, this team was hard done by the excessive amount of red cards. This year, it appears head coach Oscar Pareja has that under better control but in the last three games Dallas has conceded three consecutive penalties for Jesse Gonzalez to contend with. Thankfully only one found the back of the net and Patrick Mullins' strike didn't change the outcome of the match. It may just be a fluke, but Dallas cannot continue to award penalties to their opponents at this rate down the stretch.