Dallas snapped a season long three game losing streak last night by trouncing a struggling Real Salt Lake side 2-0 and pushed themselves further up the Western Conference standings and potentially back into the Supporter's Shield race. Whether the fortunes changed because they were back home in Frisco with 18,000 plus behind the club, the change of formation (back to the 4-4-2) and starting two strikers that had been struggling this year or just having a little bit of luck fall their way this time, either way, it's good to see Dallas turns things around and deliver a completely 90 minute performance for a change.
Will the 4-4-2 be here to stay?
One thing we saw work extremely well in 2014 was Pareja's switch from a 4-2-3-1 to a traditional 4-4-2, giving his attackers all the space they needed to hit on the counter. It wasn't the possession style that captures the hearts and the imagination of the fans, but it was damn effective in getting the best out of this squad and securing points. It was so successful that many of us wondered how Mauro Diaz would fit in and how Pareja would juggle Fabian Castillo and Tesho Akindele into such a formation as we started the 2015 campaign. Dallas surprisingly went back to the 4-4-2, giving David Texiera and Tesho Akindele a chance to prove their worth and they delivered.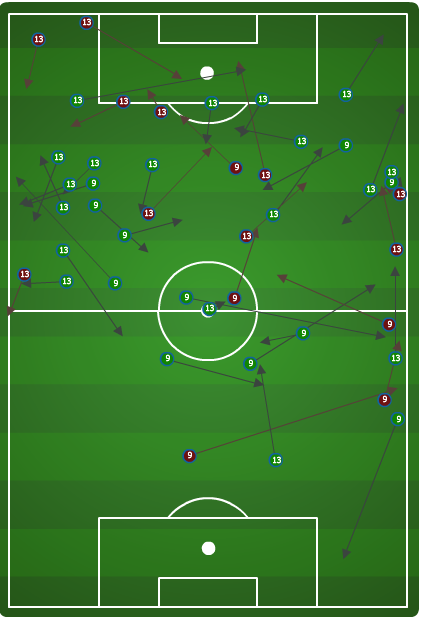 While Tesho Akindele took the headlines with his game winning penalty, I thought he and David Texeira did well to combine together and work off one another. Texeira in particular did a much better job with his off the ball movement, dragging defenders with him to create space for Castillo, Michael Barrios and Tesho. Above you'll see their passing chart for the night and what stood out was seeing how the pair were able to move around everywhere across the field making it difficult for RSL's defenders to track them. (Their passing was 28/43 with 2 key passes.)
I think Dallas should definitely go back to the 4-2-3-1 when Diaz returns and maybe even the 4-1-3-2, if Ezequiel Cirigliano actually plays and can man that midfield by himself. However, if Diaz is unavailable, I think it might be time to just go back to this 4-4-2 formation. It's certainly been effective and the creative spark falls on the team's ability to break out quickly from their blocks (speed) rather than one or two players to unlock a defense (creativity).
Defensive Simplicity
At it's very basic core, the defense' job is simply to protect the goal at all costs. Too often we think a defender's value is in his ability to muscle off a striker, throw in a tackle, win most of his 50-50 duels and such but really, a defender has one primary job: protect the goal. One of the best ways to do that is simply keeping the defensive line tight, close to one another and keeping everything in front of them and therefore, in front of their keeper.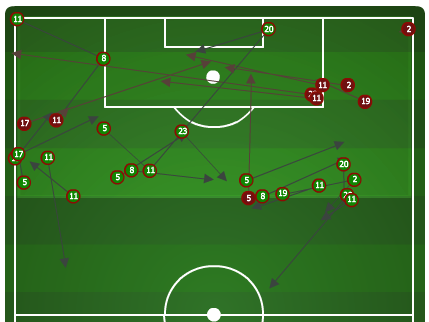 Above you'll see RSL's first half passing in the final third. They kept everything mostly out of the 18 and didn't even attempt a pass inside the final third until the 18th minute. A lot easier to protect the goal when the ball is farther way from your own.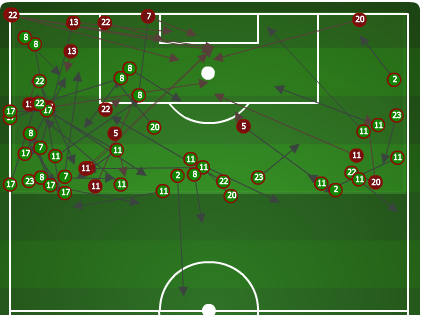 Obviously things changed a bit in the second half as RSL had far more attempts (59 vs 28) in the second half, but the passes remain largely outside the 18. They were able to get a lot more crosses into the penalty area but very few actually were successful passes.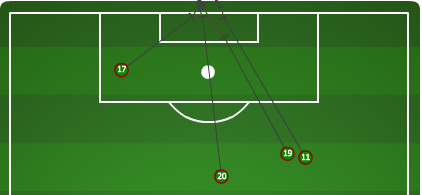 Lastly Jesse Gonzalez picked up his first clean sheet which is a lot easier to do when the shots you have to save are coming from these kinds of distances and angles. Credit to the defensive line for making it a lot easier for the young keeper.