This loss has seemingly left many of us with a bad taste in our mouths - even more so than the Chicago match. There's just that feeling that we just took a punch to the gut when this team just doesn't deliver the goods against a near sell out crowd, against a formidable Western Conference foe at a home. This actually is a good sign and how this team has performed under head coach Oscar Pareja's guidance. It didn't matter who lined up against the Hoops on Saturday evening, it was a home match and three points was expected. When you have those kinds of expectations, you know your club has reached another level and have long put the Schellas' era well into the past.
Overall, I thought FC Dallas played even with Los Angeles for most of the night, and there were stretches that Dallas was even better. But as many have figured out in this league, when you fail to mark Robbie Keane inside the penalty box, you will leak goals - and unfortunately Dallas' makeshift defense failed to mark him twice, and conceded twice.
Unlucky
Dallas' back line actually held on admirably under the circumstances. The combination of Je-Vaughn Watson and Matt Hedges did an excellent job of keeping Giovani dos Santos in front of them the whole evening. Atiba Harris didn't let Sebastian Lletget get past him to wreck havoc and Ryan Hollingshead put in another decent shift at left back. (Yes, Zardes turned him pretty badly once but let's not let one play define a player's body of work.)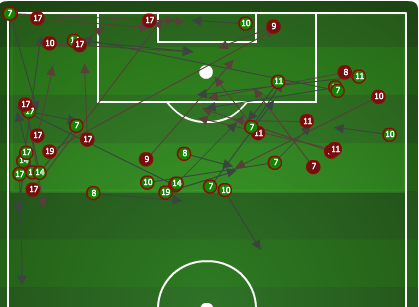 What we're looking at above is the Galaxy's final third passing which came out to 22/41 or 54%. Everything was, for the most part, contained, kept out on the wings and away from Dan Kennedy's goal. Even better was that dos Santos was limited to just 37 touches for the entire match (lowest among both teams' starters) thanks to Matt Hedges and Ryan Hollingshead blanketing him and was mostly a non factor. I only remembered he was even out there on the build up to the second goal, outside of that he was mostly anonymous.
And before we get hell bent over leaving Robbie Keane unmarked inside the penalty box and start pointing fingers at anyone for losing him, please do remember that this is Robbie Keane we're talking about. There's a reason why he's the reigning league MVP and that his G+A per 90 stat is an astonishing 1.10. He's freaking good and for the large part, the make shift back line did it's job well and were unlucky to lose him at those critical moments.
Why's Rolando Here?
It appears that Rolando Escobar's signing was to provide some depth for Mauro Diaz after that dreadful summer spell last season. What's been confusing is that there hasn't been a suitable Mauro Diaz replacement on this roster or anywhere else in this league that can do the job. Last year Dallas injected Danny Garcia into that role and while he was fine, he didn't deliver anywhere near Diaz's levels and the same can be said of Escobar at the moment.
Was Escobar poor against LA? Not really. But what baffles me is why this team reverted back to trying to plug in a replacement for Diaz's position and expect the same results. This club didn't start to come fully alive again last year until Pareja switched to a 4-4-2 and let Castillo loose on the counter with Tesho Akindele in support. If Diaz cannot go, that's what I hope to see from this club again and going back to the counter attacking style as the drop of talent from Diaz to anyone else is far too significant.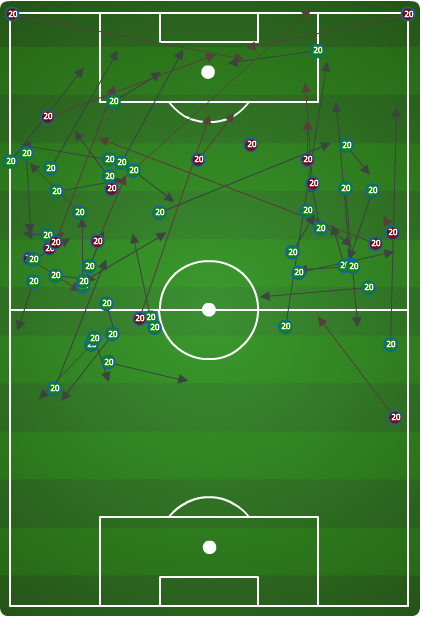 As you can see, Escobar's passing chart was pretty respectable. He kept the ball well (40/56 71%) and found the game and got himself in dangerous positions in the final third. My dilemma here is where he's receiving the ball and where he's operating out of.
Notice that most of his passes are along the flanks and rarely in the middle? Diaz does the same from time to time as he needs to drift away from the defense to find the space he needs, my problem is how high Escobar is doing it. Diaz usually only drifts wide around the halfway line, ensuring that there's enough space for Fabian Castillo to operate and take defenders on. Escobar however, drifted too high and in doing so crowded Castillo from the space he needed. Which is why I'm advocating for a 4-4-2 if there's no Diaz. Castillo needs space to be at his very best and if our Super Mauro isn't around, then this team's offense needs to be centered around Castillo and his strengths.