We all knew this was coming but kindly sort of ignored it and hoped it would somehow magically go away. It's sort of like that cough you've been having for the past three weeks. You know you need to see a doctor, but you're just hoping that it'll take care of itself. In this scenario, we're just about to jump into the summer months were FC Dallas' roster will be completely decimated by international call ups to respective tournaments, qualifiers and friendlies. This of course, is one of the problems with MLS and their insistence of playing through these international dates as if they didn't exist or wouldn't affect how the game would be played or the on field quality in any regard.
It certainly felt like Dallas was getting hit the hardest with really untimely call ups to positions that are lacking on quality depth or have been hit by the injury bug. I decided to dig up some data to see if Dallas really is in trouble or if other teams in the league are going to suffer just as badly this summer.
I do need to pull in a few disclaimers as I'm fully aware that the data and visuals are not entirely complete. First, this list does not include any Gold Cup rosters as they haven't been announced yet. We could speculate with pretty good accuracy, but until those rosters are announced, they won't be included here. The other thing that is hard to measure is the quality of the player. So for example, FC Dallas losing Kellyn Acosta for the U20 World Cup is vastly more significant than Orlando City losing Conor Donovan. The problem is calculating their worth to the team isn't very straight forward across multiple positions. So for now, the only measure I'm using is "minutes played" taking into consideration that the more minutes the player has played, that the more valuable he has been for his club. This of course does not take into account minutes loss due to injury or minutes loss because the player hasn't been on the club for very long (see: Rolando Escobar). So while this data is still pretty incomplete and needs adjustments, it's still a decent start to see where Dallas stands with the summer looming. Just take it with a grain of salt.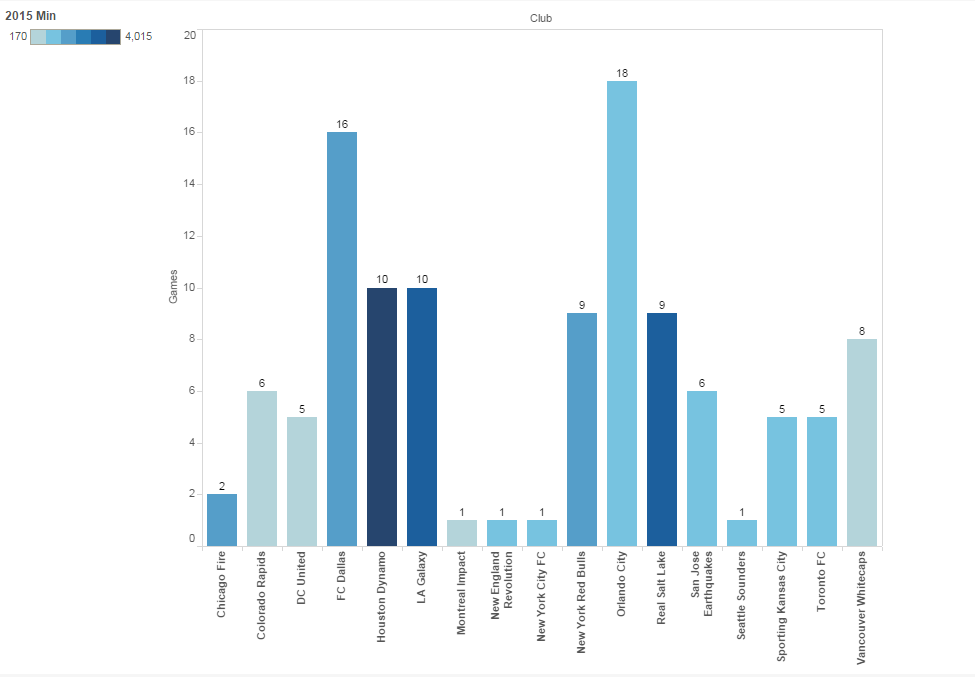 What I've done is taken the list of players that MLS released for MLS players gone on international duty for June, organized them by club, calculated how many matches they'll miss because of the call up and then factored in their minutes played in 2015.
As you can see, Orlando City is actually the team that is hit the hardest in terms of games loss from these call ups. The issue there is that three of their players are featured in the U20 World Cup, meaning they'll miss 5 games a piece yet their combined playing time this year is just 80 minutes (and that's just from one player). So in other words, the players they lost are more like our third string GK Jesse Gonzalez. Yes, he's also called up and will miss 5 matches for Dallas but how likely was he going to play for us anyway? Pretty unlikely.
The darker shaded bars indicate a higher number of minutes played, which puts Houston at the very top with them losing players that have contributed 4,015 minutes to their club this season. And when you rearrange the data, it puts Dallas at fourth most in terms of players lost based on minutes played.
All this is just to say that if it feels like Dallas has been hit hard by these call ups, then rest assured that your feelings are accurate. Dallas has indeed had to deal with its share of player losses. This will only get worse when we have to take into account that Tesho Akindele, Kyle Bekker and Atiba Harris (who were not included in the list or data) are most likely going to be called into action, along with Blas Perez, Je-Vaughn Watson and Moises Hernadez for the Gold Cup.
Here's to hoping that the Academy kids are ready or that the club goes out and buys a player or two. The other option, which would intrigue me the most is making use of that partnership with Arizona United and loan a player our way too. I wouldn't mind seeing former FC Dallas striker Jonathan Top come and be a back up to David Texeira or Arizona CB Tyler Ruthven give us an extra big body in defense. Bottom line, this club needs players and needs to get them quick.