Let's just call what Dallas had with Arizona United what it is, a disaster and move on. Things had looked pretty promising when the two sides made their partnership official earlier in the year with former FC Dallas defedner Michael Dellorusso in charge of the USL side. On the surface, there was understanding of philosophy between Dellorusso and FC Dallas head coach Oscar Pareja on how their teams would play, however as the season wore on, and with loanees Danny Garcia and Otis Earle either stalling in their development or not playing at all, this partnership with Arizona took a turn for the worse.
2016 is fast coming and Arizona declined to extend Dellorusso's contract and brought in Frank Yallop (yuck) to steer the club into the future. OK - 'yuck' is probably unfair as Yallop has had a fairly successful coaching career, but let's be honest, his soccer philosophy would be a disastrous pairing with FC Dallas. So while there's nothing official yet, let's just presume that Arizona will no longer be FCD's affiliate moving on into 2016.
With the need to send the youth to get significant minutes elsewhere, FC Dallas has a few options for 2016 to explore and we'll cover them here:
Option 1: FCD 2
Not likely.
There's been some real frustration from the fan base and the readers here at how a club so committed to the development of youth still hasn't established a bonafide USL side to field. As we move closer and closer to 2016, it's looking increasingly more unlikely that we'll see FCD 2 to be an actual team for the upcoming soccer season.
While frustrating, the absence of one is also understandable. FC Dallas hasn't released the numbers, but it is believed that this club spends an enormous amount of money on their academy set up, which as we saw this past season has paid off tremendously. MLS owned USL sides are straight up hemorrhaging  money with really low attendance (think around or below 1K). It is estimated that to run an USL side that it would cost somewhere in the neighborhood of $4 million (maybe less if FCD 2 can play on one of the fields at Toyota Stadium) and I'm not convinced FCD can afford that without selling off one of their prized assets which they don't want to just yet.
I'm fairly confident we'll see FCD 2 one day, but not for 2016.
Option 2: San Antonio
Intriguing, but probably not.
The San Antonio Scorpions are no more and the rights of their stadium have been bought up by the San Antonio Spurs with the hopes that the city will have an USL team ready to hit the ground running in 2016. The only positive to this scenario is the location as the two cities are not that far away, and Dallas can expand their brand into the Central Texas market more.
But aside from geography, there's really nothing else that would make this a suitable option for Dallas. Mainly, as of right now, we don't know who their coaching staff is, what their roster make up will be or anything else. It's hard to commit to sending your youth to a team that you literally know nothing about.
There's something enticing about keeping this in Texas but pass for now.
Option 3: OKC Energy
Unsure, but possibly best fit
Since we're talking geography as an advantage, then OKC needs to be thrown into the mix. Roughly just a bit under 200 miles north of Frisco, OKC Energy would be a nice fit for fans to travel between both cities and for each club to expand their brand into neighboring cities and states.
But where this partnership would excel the most would be in the on-field product that OKC could provide to help nurture the young talents of FCD. OKC Energy is coached by Jimmy Nielsen, and if the name sounds familiar, it's because he was former MLS Cup winner and MLS Goalkeeper of the Year for Sporting Kansas City. OKC finished the 2015 USL season second in the Western Conference with 47 points (13-7-8) and were actually tied for the first spot but lost out to OC Blues on tie-breaker. OKC also managed to score 48 goals in 2015, with only two other Western Conference teams scoring more.
Formation: 4-2-3-1 or 4-4-2
Tactically, OKC and FCD line up pretty similarly on the field. Even when OKC rolls out the 4-4-2, they are still dependent on their wing play from Sebastian Dalgaard and Casey Townsend. In the middle they run the ball through their #10 playmaker in Chuy Sanchez. (Is this starting to sound familiar yet?)
In the attack, OKC is in love with maintaining possession at all cost. Rarely did I see them launch the ball over the top, preferring to methodically play the ball on the ground, starting with their keeper who whenever he catches prefers to roll or throw the ball to his fullbacks than punt.
Offense: Possession based
Their fullbacks are really aggressive pushing up the flanks when the space properly opens up for them.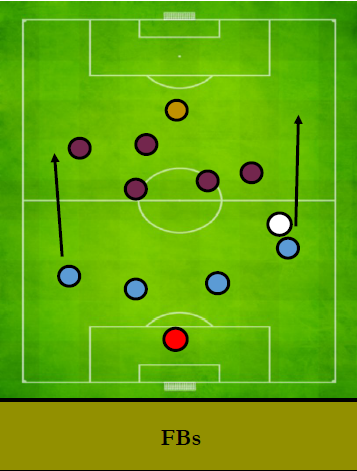 OKC plays with two dedicated central midfielders, with one (Evans) anchored in the back while the other (Lopez) was given the freedom to be the runner and jump into the attack when the opportunities opened up.
As I mentioned earlier, their attack is centered around their wing play with their left wing (Dalgaard) receiving most of the ball. Dalgaard can go either way, but prefers cutting inside to drag the fullback with him before sliding the ball onto the onrushing forward or towards OKC's #10 (Sanchez) for him to play the final ball.
Defense: High engagenment
They're not Barcelona or Bayern, but OKC does like to press high and quickly to retain the ball. Where they excelled last year wasn't just in their team pursuit of the ball but their tactical discipline to know when to back off and get back into proper defensive shape.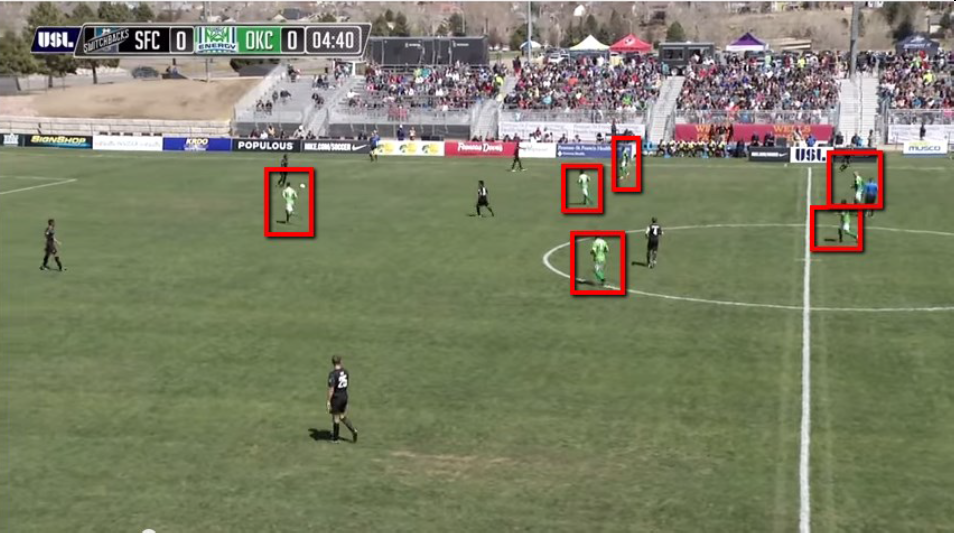 Still frames are pretty dangerous when doing tactical analysis, but I do think this gives a decent picture of how they line up. As you can see, their defensive lines are pretty distinct and clear and prefer to remain compact and give up the flanks. While Dalgaard is lauded for his offensive play, his commitment to team defending is commendable.
Outlook: Yes, please
As you can see, OKC lines up fairly similarly as FCD does already. They have an excellent coach who has excellent MLS experience and knows what it takes to succeed at that level. OKC plays attractive soccer with a high emphasis on possession, something that young players could greatly benefit from. OKC plays total team defense, another positive for young players to understand that they cannot be just one sided at this level.
So will this actually happen? I guess only time will tell.