Admittedly this is the hardest Chalkboard piece I've had to put together, ever. 120 minutes of non-stop action can do that to you but there were so many little things to unpack that I've found myself writing four different versions of this. This won't cover the game and do it justice (honestly, nothing we write here this week really will), but here goes my best attempt to unpack the thriller last night.
Ryan Hollingshead

for USMNT?

Before you roll your eyes and completely dismiss this notion, really take a second and re-play (or even rewatch) the match last night and think about Ryan's entire body of work at left back this year. Neutrals have taken notice, and it wasn't just last night's performance either. People have praised him even months ago:
Hollingshead is one of the most impressive fullbacks in the league.

— Sean Steffen (@SeanSteffen) August 16, 2015
And, Sean is no fool when it comes to the game of footy with his work at LAG Confidential as their managing editor and resident tactics expert. And then, last night even the Armchair Analyst, Matt Doyle had this to say too:
I'm officially making Hollingshead a "person of interest" re: potential #USMNT fullback call-up. He's a player. #DALvSEA

— Matthew Doyle (@MLSAnalyst) November 9, 2015
Naturally sometimes our eyes may deceive us and so we rely on stats to test our theory and analysis. A while ago I said that Ryan is the smartest player on this team, and I'll throw him up there against the entire league now. Just take a look at how he locked up the entire left side on his own.
Here's Seattle's passing chart from the first half: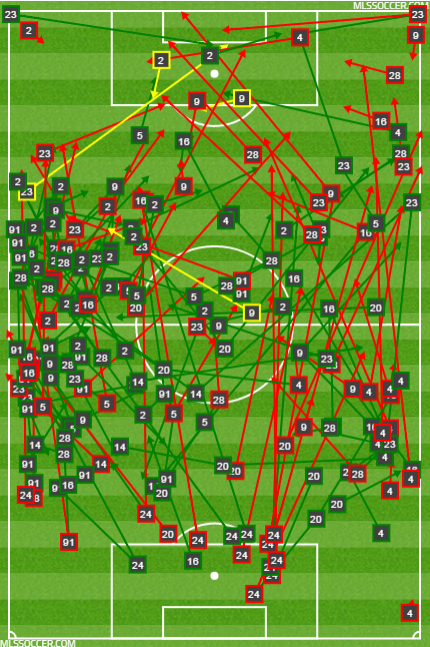 Notice how everything on the right side is basically red inside FC Dallas' half? Then contrast that to the volume of passes on the left. This tells me what something is happening and then I pulled up Ryan's defense chart to compare for the first half and found this: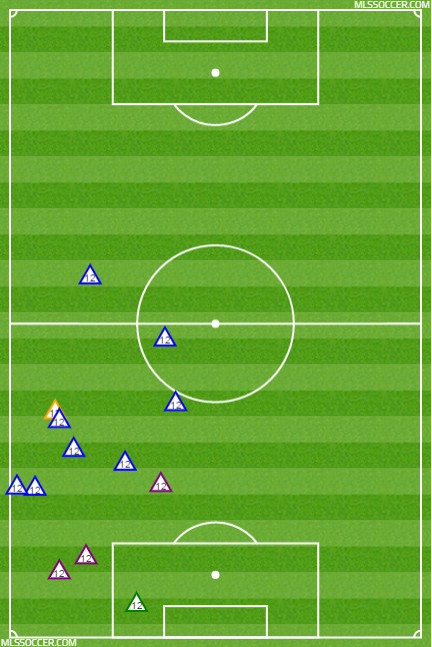 That's 1 tackle (green), 3 clearances (purple), 1 recovery (orange) and a ridiculous 8 interceptions (blue) in just 45 minutes of work. Seattle wisened up were more careful with the ball the rest of the way, but Ryan still did a marvelous job of winning just about every 50/50 ball.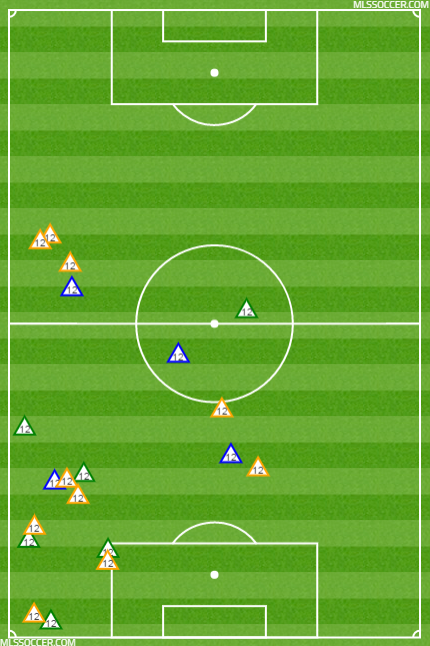 Converting is Not Easy
Despite all the success of Dallas head coach Oscar Pareja's masterful touch to convert attackers into defenders, this is by no way an easy feat. May I submit to you Exhibit A: Christian Roldan, otherwise known as that guy who Michael Barrios torched with nearly every touch in extra time.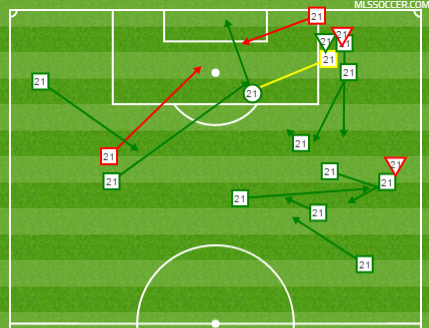 These are Barrios' attacking touches (passes, shots, take-ons) in extra time. Look at how deep Barrios got into the Sounder's defense third. Some of these are courtesy of Mauro Diaz' vision, but a good handful of these are from Barrios' ability to unbalance Roldan and get in behind him and serve up a dangerous cross. While we're on Barrios, a very underrated facet to his game is his passing/crossing ability. There's never a hopeful ball just hit into the box, praying that it'll find someone. They're always hit with conviction, with a target in mind, but more importantly, the crosses are placed to where his targets can reasonably redirect the ball. This will come in handy against Portland in the next series.
Tesho: Super Sub
This tag isn't one Tesho Akindele will want, at least not in the long-term, but for now Dallas has a great weapon to call upon from the bench when goals are needed. His performance was a complete 180 to what he delivered in the first leg of the series where he somehow attempted zero passes. Contrast that game with this from last night: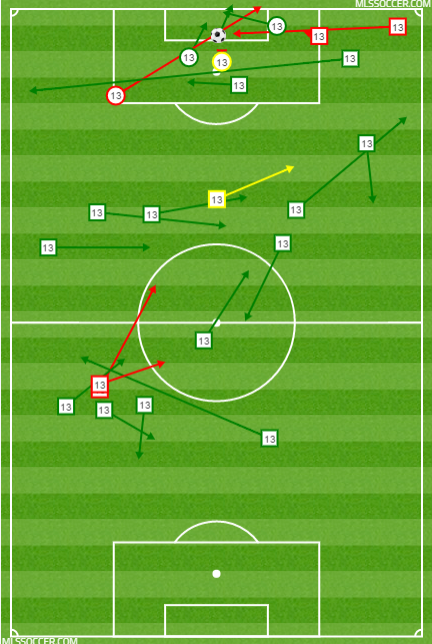 When Tesho came on, he had one objective: help this team score. His first touch? A goal. In 37 minutes, Tesho put in 5 shots, all coming from inside the penalty area and all were reasonably high percentage shots; exactly what you want from your impact sub.
The challenge now is consistency. Can Tesho come off the bench and put in more shifts like this on a regular basis? If he can, I like Dallas' odds to advance to the finals.