The 2015 FC Dallas campaign ended with a thud and an all too familiar feeling of "almost, yet not quite". This club, while setting unprecedented records this year in terms of points and just losing out on the Supporter's Shield on a tie-breaker, has continued to fall short of grabbing any actual silverware to show for their efforts. This narrative has felt particularly true in recent years with the 2010 heartbreak of nearly winning the MLS Cup in the finals, followed by the shootout loss in the 2014 US Open Cup semi-finals. Each year this club is close, but each year we're left with the sence of disappointment and a big "What If?" hovering over this club's collective head.
What if Blas Perez was subbed on earlier? What if he started? What if Nat "Damn you and your glorious beard" Borchers didn't make that sliding block? What if Borchers didn't score that last minute goal last weekend? What if this Dallas club didn't drop 11 points to the Colorado Rapids and the Chicago Fire collective this year? We'll never know, and it doesn't help to ponder those things, but you can't help but wonder if a few more things bounced in Dallas' favor if we'd be looking at a possible "double" this year instead of another barren season.
What Urgency?
Once the frantic pace of the opening 15-20 minutes wore off, observers mostly all had the same question, "Does Dallas know they need to score two goals?" For a team chasing the series, FCD played a very pedestrian rate from minute 20 on until the final third of the match. Which begs the question, "Why?" Why when the season was on the line, did Dallas play so slowly and without the proper intensity to match the seriousness of the scenario?
The first half shots tell the story of how slow this team started: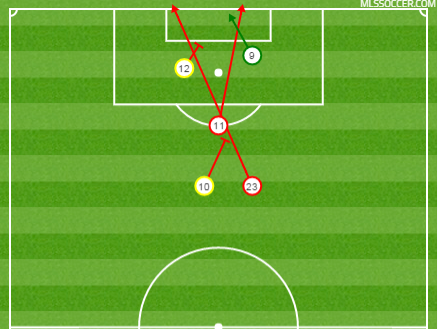 Which was a stark contrast to their second half surge: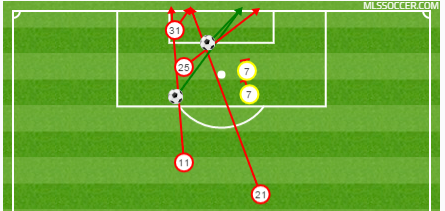 (Green - shots on target; Yellow - shot blocked; Red - shot missed)
What grabs my attention are the two shots that Fabian Castillo mustered, and how neither of them were on target and none of them were inside the box. I talked about his disappearing act since his call-up to the Colombian national team in last weeks' chalkboard and sadly, he wasn't able to get out of the funk for this series.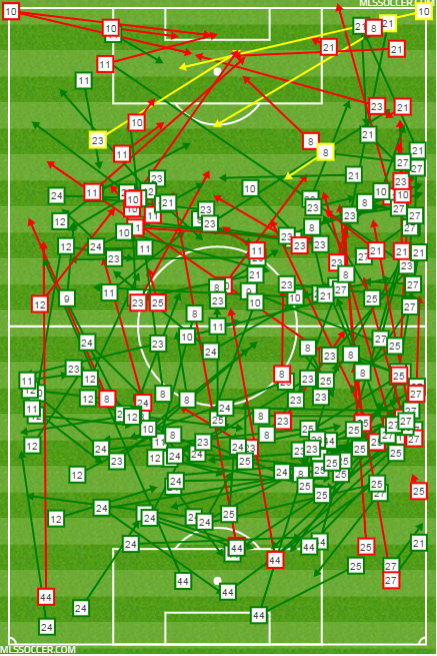 Above is Dallas' first half passing chart, which again, makes you wonder if this was really a team that was playing knowing it had a two goal deficit to overcome. Already troubling was the lack of action in the final third, but how deep Dallas' primary possession was inside their own half.
Things were a little better in the opening 16 minutes of the second half: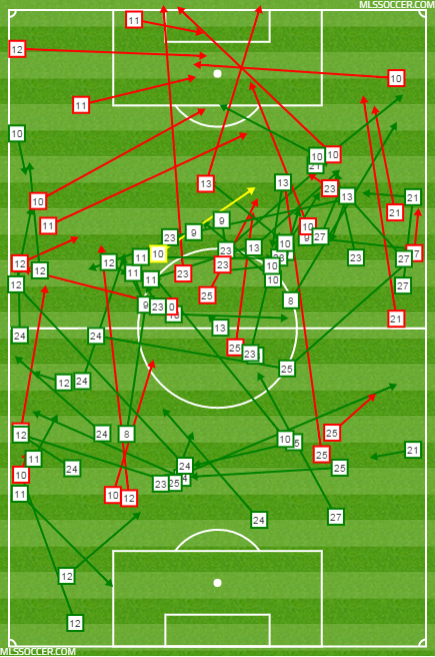 Jesse Gonzalez had nothing to do (a good sign) and the starting positions for Dallas' possession were much more positive. The lacking aspect was how little wing play Dallas was able to generate. Then of course, everything changed once Blas Perez made his entrance: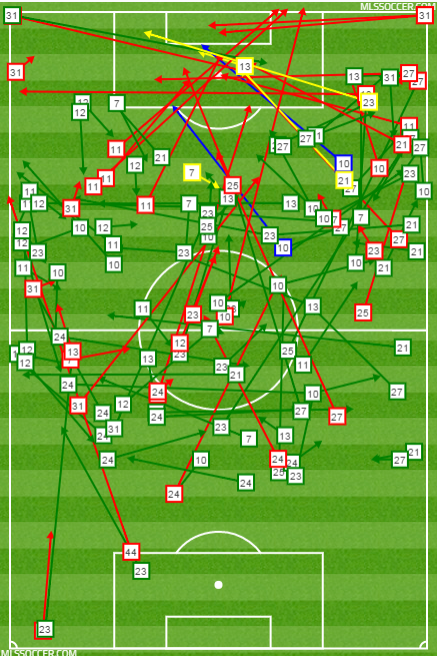 Much better wing play, higher positions of possession and of course, the two goals to boot. The urgency and intensity were definitely lacking up until Super Raton was subbed on, which stings as we are left to wonder a little; What if....?
The Outlook
This came across my Twitter timeline and thought it was appropriate for much-needed perspective:
The beginning of this may be my favorite @parejagoscar quote of the @FCDallas year. Too long for Twitter. pic.twitter.com/TJ41yhKeS3

— Scott Sidway (@ScottyWK) November 30, 2015
The opening quote goes:
You'll always hear from me that succeeding is not a result.
I, among most of you here, have found Oscar Pareja to be a true class and this club is fortunate to have him as the coach. Yes, I mentioned that this club has left many of us wondering what if, and that it has fallen short of winning trophies in its history. Obviously, this paints a completely different picture and perspective on the 2015 campaign. Am I disappointed? Absolutely. Was this season a success? Absolutely, as well.
We will start looking into the off-season here on the site shortly, taking a look at who will stay and who will go and where Dallas needs to upgrade and the whole lot. But before we do, I hope everyone will take a brief moment and join me in looking back at the moments where this club did succeed. If you need a little guidance, here's a very short list to get things started:
Jesse Gonzalez

Goals from Homegrowns Kellyn Acosta and

Victor Ulloa

That Seattle penalty shoot-out

El Capitan

Qualifying for CCL

Ryan Hollingshead's man bun

The magic that is

Mauro Diaz

Getting the stadium to sing "Deep in the Heart of Texas" in unison (finally)