This one left a pretty foul taste in the mouth didn't it? Yes, Dallas secured a very important away goal but the narrative shift from "leading in the series" to "losing" was rather quick and a pretty deflating blow. In the first half, we saw Oscar Pareja and FC Dallas do everything right from containment, defensive shape, scoring and tactical discipline. That was never going to be sustainable for a full 90 minutes and we saw it slowly begin to unravel in the waning moments of the first half and then in two brief moments of excellence from the Seattle Sounders, Dallas now returns home needing to score in order to advance.
Here's my breakdown of how things went.
First Half Perfection
The first leg of this series was always going to be about containment. Dallas did not need to win but at the very least, wanted to stay in stride with the Sounders. On top of those moments of magical brilliance from Mauro Diaz, we were also treated to a very tactically organized Dallas team that produced this: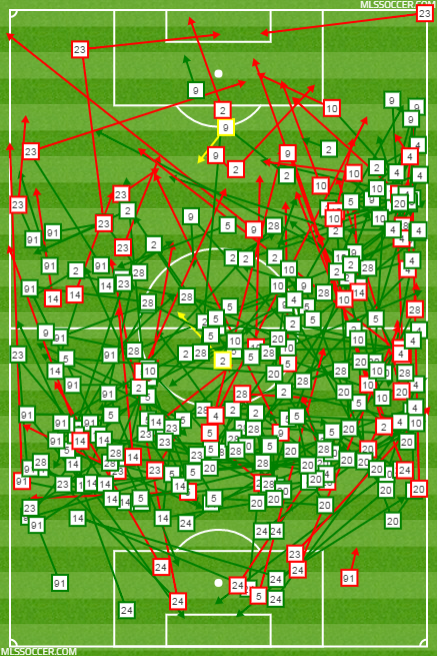 Very, very little came from the Sounders attack in the opening half. Some of that was most likely by design from Sounders head coach Sigi Schmid who did not want to give up the counter. However, when you're a team that boasts a front line of Obafemi Martins and Clint Dempsey, so few touches inside the final third cannot be  acceptable and credit goes to Victor Ulloa and Ezequiel Cirigliano for clogging that space and denying entry passes.
Dallas did what they wanted to do and take the game to the wings and exploit the matchups afforded there.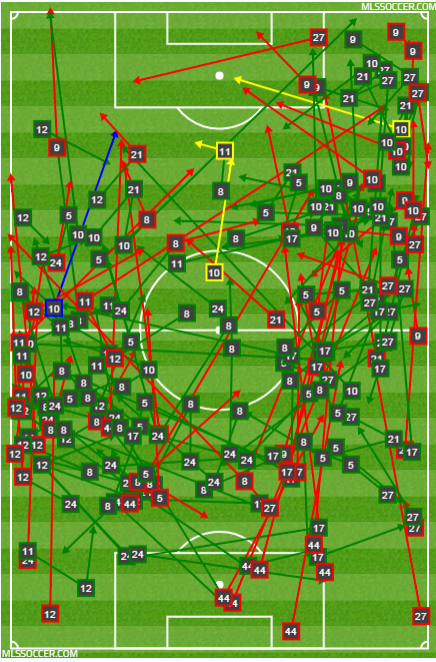 Not everything found their intended target, but the majority of outlet passes went to the flanks for Fabian Castillo and Michael Barrios to get onto and very wisely saved Ulloa and Cirigliano from having to defend and dictate the offensive tempo. (They can do it, but this wasn't the game for them to manage both.)
Second Half Unraveling
As I said earlier, this kind of containment was never sustainable over the course of a full match. Sigi was going to make his changes and Seattle was going to need to score.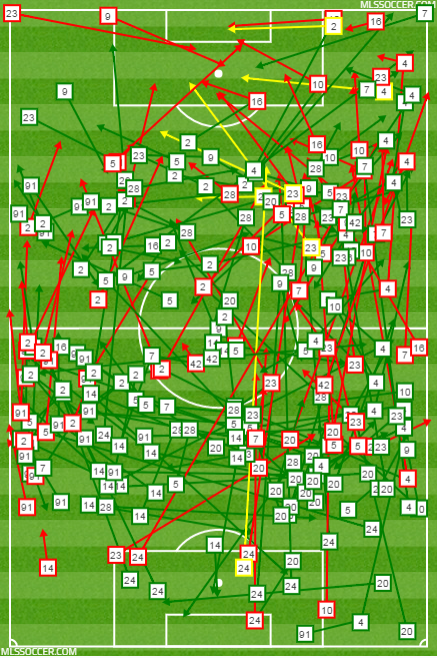 The Sounders were able to push higher and further up the pitch. What was troubling for me was seeing Tyrone Mears do this on Castillo's side: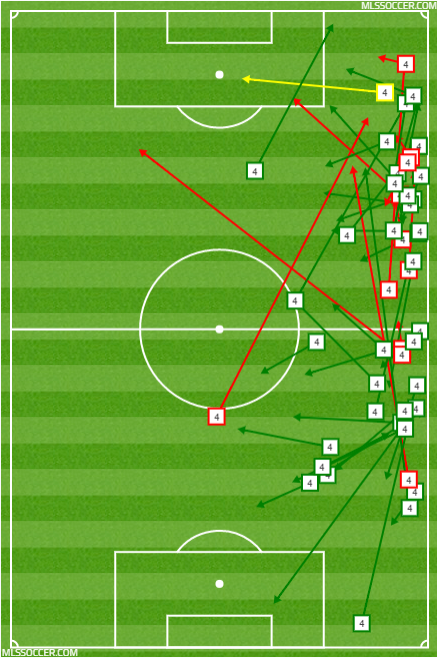 He is way too high up for a fullback when Dallas has Fabian Castillo lined up next to him. Credit to Sigi though for rolling the dice on that. By initiating the offense, it forced Dallas to react and Castillo did his defensive duties by dropping deep. However by doing so, once possession was regained Castillo's starting position was too deep to hit on the quick counter down his side and forced the ball to go to Barrios more. (That's not a bad thing, but makes it more predictable and easier for Seattle to intercept.)
If You're Going to Lose...
... don't let their stars beat you. That's what my coach always told us. Meaning, mark your opponents best players tightly and force the "scrubs" to make a spectacular play. Of course, that's a lot easier done in weekend rec leagues than at the pro level, but it loosely applies. If Seattle was going to win the series, it better be from their other players not named "Dempsey" or "Martins". And Dallas did fairly well in that department, holding Martins to this: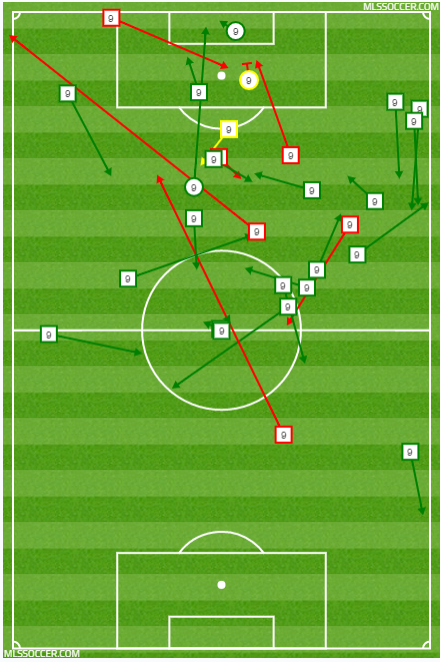 Yes, that's all his touches from the full 90. Dempsey was a bit of a different story, but at least the majority of touches came outside of the final third and he wasn't able to combine well with Martins.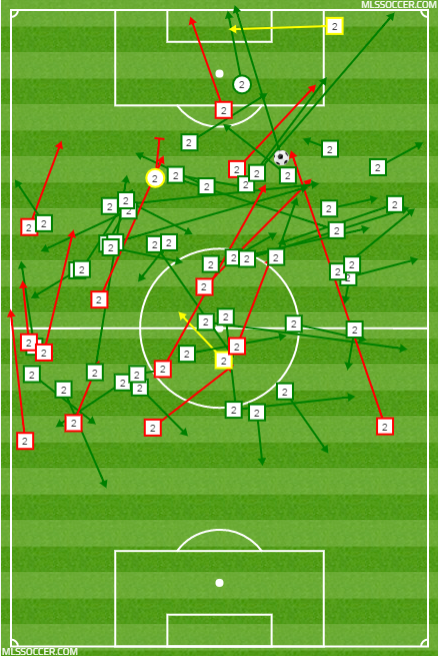 Obviously Dallas did end up losing off a wonder free kick from Clint Dempsey, but you can't control who takes the free kicks. But if Dallas can do more of the same in Frisco and keep Martins and Dempsey at bay, I'll like the odds of FCD making it through to the next round.
All Hail
Zach Loyd
His best contributions on the night don't show up in the stat sheet or the chalkboard, but that read to follow Dempsey right before Castillo's goal was textbook centerback defending. (Yes, that will be gif-ed). There's no interception or tackle or anything that'll credit that defensive run, but hat tip to you Zach Loyd for doing all the dirty work, making all the great reads and cleaning up the messes for this Dallas defense. Your contributions are noted and we thank you for being the perfect compliment to captain Matt Hedges.