On paper, the Western Conference Final between the Portland Timbers matches up more favorably for FC Dallas than did the Vancouver Whitecaps. To help this cause, the Timbers' Argentinian playmaker Diego Valeri will miss the first match which will be a crucial loss for them (more on that in a moment). But Portland still has players on their roster that could very much pose a threat to Dallas' hopes of reaching the MLS Cup Finals again. Here's our breakdown of some key players from the Cascadia team.
Who Will Create for the Timbers?
Given FCD's incredible home record, the Timbers will really need to score at least a couple in the first leg to have a reasonable chance of advancing. The challenge though is that they'll be without their primary chance creator in Diego Valeri who produced these chances against the Vancouver Whitecaps: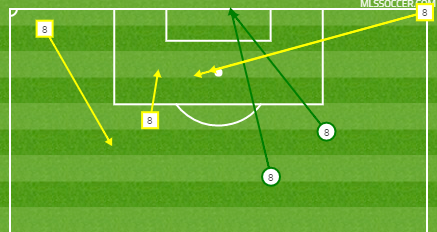 First leg: 3 key passes, two shots on target.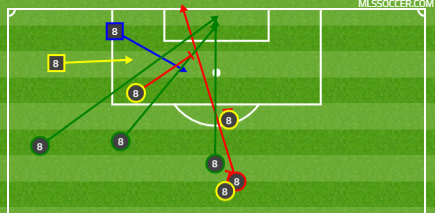 Second leg: 1 assist, 1 key pass, 7 total shots (3 on target, 3 blocked and 1 miss)
For the 2015 campaign, Valier was responsible for 31% of all the Timbers key passes and 16% of their total assists., despite having only played in 1709 minutes this season. (Just for context, if you played every minute of every game, you'd reach 3060 minutes.) In other words, Valeri, unsurprisingly, is a big part of Portland's offense and someone will need to step up.
Darlington Nagbe

: The Dallas Killer

While he's cooled off a bit this year, Darlington Nagbe has been ridiculously successful against FC Dallas; having scored 5 goals in 12 career appearances against the North Dallas club. (That's 22% of his career goals by the way.) If someone's going to step up and fill the void for Valeri, I'd expect it to be Nagbe.

But it's not just his goal scoring prowess the concerns me; but rather his ability to take care of the ball is really impressive. Just take a look at his two playoff performances against Vancouver:

Game 1 passing: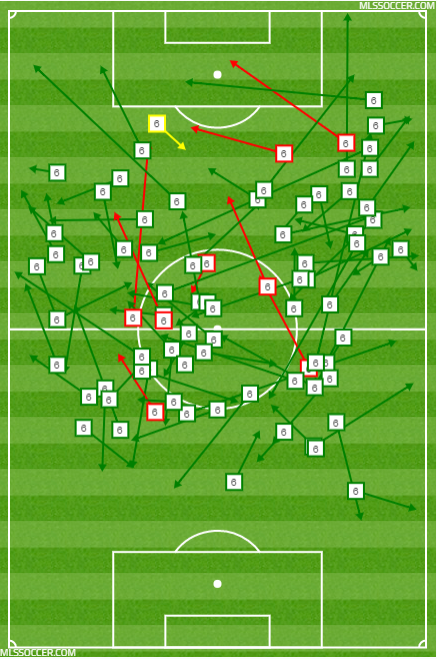 Game 1 Take Ons: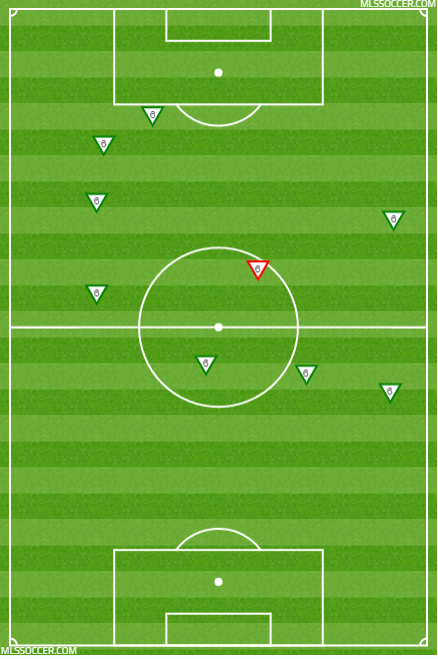 (Yeah.... that's just filthy....)
Game 2 Passing & Take Ons: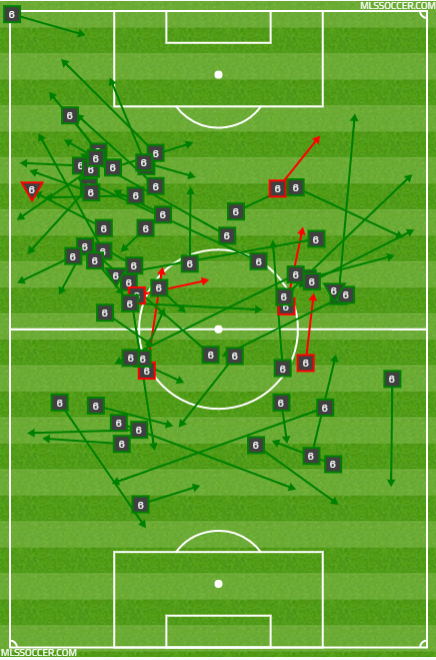 There's no sense in trying to deny Nagbe from getting on the ball, he'll find a way with his movement to create space and passing lanes. The best Dallas can hope for is keeping Nagbe's touches as far away from the final third and crowd him so he doesn't beat you one on one.
Chara: The Blackhole
Diego Chara has always been a difficult matchup for Dallas. He has a good read of the game, combined with great speed to recovery and physical strength to muscle anyone off the ball. In summary, he's been a thorn (pun intended) in anyone's side, particularly Dallas. Take a look at his defensive actions against Vancouver: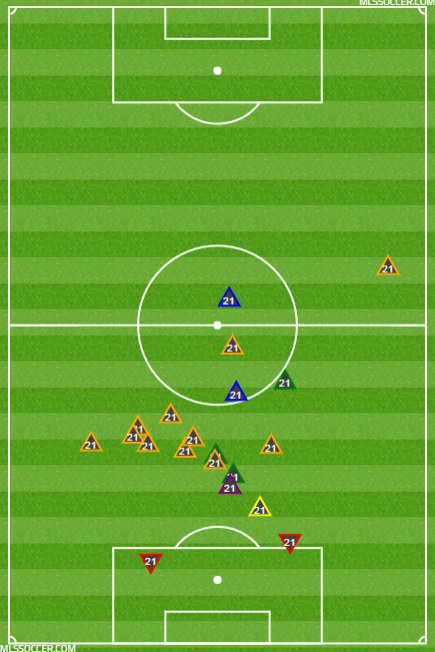 (Orange - Recovery, Green - Tackle Won, Blue - Interception, Yellow - Block, Purple - Clearance, Red - Tackle Lost)
Mauro Diaz's first touch will need to be on point on Sunday night, otherwise Chara will just suck up everything and restart the Timbers attack within seconds. Loose balls are drawn to Chara and Dallas cannot be careless with the ball when they have their chance with it.
What Dallas Will Do
Thankfully where Portland is weakest, is exactly where Dallas is strongest: on the wings. Kekutah Manneh was a handful for Alvas Powell (but in his defense, Manneh is a handful for just about everyone in this league) and Fabian Castillo is a more finished product than Manneh and should be able to create chances for Dallas on the wing. Combine that with Michael Barrios on the opposite wing, there should be plenty of speed for the Hoops to break, as usual, against Portland to at least relieve defensive pressure and hit on the counter. As long as Dallas can come back with a draw or keep the goal deficit within one goal, FCD will be in great position to advance.