A lot of ideas and opinions are shaped by the narrative and perspective that you're coming from. From the angle of making a charge for the Supporter's Shield, last night's result was severely disappointing as the New York Red Bulls have opened up a three point lead in the race for the title as the Montreal Impact decided to implode and shoot themselves in the foot with an early red and penalty. On the flip side, from the perspective of making a run for the top spot in the West, which I believe gets you a spot in the Concacaf Champions League (honestly I've stopped keeping track since these rules change more than a liberal arts student changes majors), then Dallas' point and keeping Vancouver from getting all three, is a massive victory towards that cause.
There was also chatter about how this series against Vancouver very much mirrored the playoffs for Dallas and how this game and the next will prepare this club on how to handle the post season. From that perspective, their 0-0 result was also a huge positive. On top of which, regardless of which perspective you're coming from, getting a point on the road in MLS is a big victory too and keeping a clean sheet, on the road no less, is another positive to take away from the match.
Shot Limitation
One of the areas where Dallas has needed to mature in was setting up their blocks better and protect Jesse Gonzalez from facing shots on his goal. Against LA and SKC on the road recently, Dallas gave up way too many chances for the opposition and called up Gonzalez to make the near impossible saves to bail the team out.
Things did not look promising early on as Octavio Rivero got off two shots within the first 13 minutes without much of a fight from the defense. Thankfully, and this is where the team and Oscar Pareja have grown in the past few weeks, Gonzalez, the defense and Pareja were able to adjust after those lapses in defense and the end result was something that looked like this: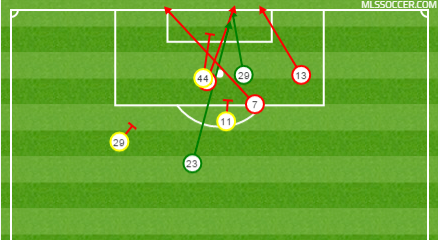 After giving up two dangerous looks on goal, Dallas kept Vancouver to just 6 shots the rest of the way without really testing Gonzalez. Vancouver's 8 total shots was the second lowest of the year at home for them. Ironically, it was Dallas who kept them to their season low of 7 last time.
(Red circles - off target, green - on target, yellow - blocked)
Reducing your opponent's chances on goal requires a lot of tactical discipline - that is keeping your defensive shape and not going in for the hero tackles and pulling your defense apart. So credit to Pareja, Matt Hedges, Zach Loyd, Ryan Hollingshead and Je-Vaughn Watson for keeping their cool in a hostile environment and not getting sucked out of position.
What's a block?
I think I've used that term a few times here before without much explanation. In it's most basic terms, it's just how the defense and midfielders take their positions and where they draw the imaginary line in the sand of "I will stand guard this post and you shall not pass." There are pros and cons of where you set up your blocks and there isn't one true set up that'll always get you the result that your heart so desires.
What's been troubling for me has been watching Dallas set up their defensive block, their opponent figures it out and Dallas hasn't bothered to change or adjust accordingly. At times I feel that Dallas played too deep, like against LA or some times a bit too high and the team couldn't adjust accordingly. That was not the case last night against Vancouver as their initial block was pretty deep but they stepped it up about 5 yards and the result was this: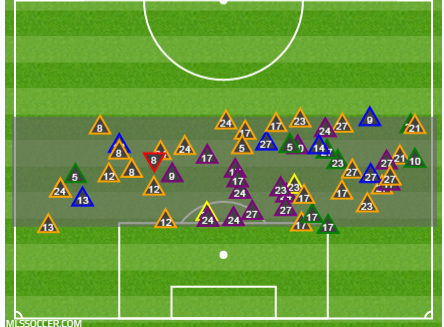 (Blue - interception, red - missed tackle, green - tackle, orange - recovery, yellow - block, purple - clearance.)
We see Dallas winning a lot of 50/50 balls (recoveries) and tackles in this area which means they've set up shop well here to clean up messes. On the flip side, when your team gets it's blocks right, you'll start seeing something like this from the opposition: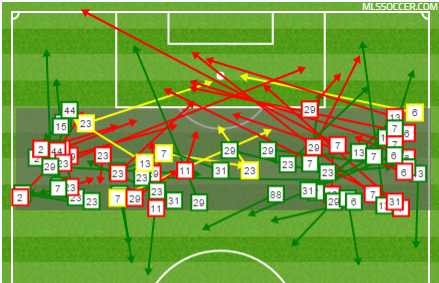 (Yellow - key pass, green - successful pass, red - unsuccessful pass)
What we're seeing then is that the opposition is out of ideas and sends a hopeful cross into the penalty area, hoping their forward can win it and do something (maybe shoot) with it. And as you can see, Dallas fended off those crosses rather easily.
In the end, the clean sheet is a big deal and so is that point on the road. But none of that will matter unless Dallas can take all three points next week when Vancouver makes the return trip to Frisco.