After the final whistle blew on a beautiful Sunday evening at Frisco there was a lot to celebrate and a lot to mourn over. The club just completed its most successful campaign in their history, locking up the most points, tied for most home wins, and a number one seed into the playoffs yet still came up just a fraction short of coming home with any silverware to show for their record-setting performance. Lost in all the confusion may have been Oscar Pareja's final tweak to this club that may have them transformed into legitimate MLS Cup contenders in two short years.
Make no mistake that Oscar Pareja is almost entirely responsible for this team's 2014 and 2015 fortunes. As we move into the playoffs, we'll no doubt cover Oscar Pareja's deserved Coach of the Year Award that he'll no doubt get the Leo treatment, but alas, what the Hoops did against San Jose and Dom Kinnear was magical. In 2014, we saw this team embrace the counter attack that unleashed the likes of Fabian Castillo and Tesho Akindele. In 2015, we've seen a bit of a hybrid style from this team, largely dependent on personnel but now we're seeing the speed of Castillo and Michael Barrios combined with the pure unicorn magic that is Mauro Diaz and the hustle and bustle of David Texeira in there too. This team can now counter you to death or as they showed on Sunday, carefully outplay and carve your defense open.
Death by a Thousand Tactical Disciplines
Despite some early signs of tentativeness, Dallas really got a hold on the match by imposing their will on the ball and setting Ryan Hollingshead and Je-Vaughn Watson free on the flanks with their overlapping runs into the San Jose final third. In previous matches, this would have caused San Jose to wet their lips. By committing the fullbacks into the attack, Dallas left themselves vulnerable to the counter which is exactly what the Earthquakes were planning for.
The key to not getting overrun on the counter is to simply make sure the opponent doesn't get the ball easily. They're already affording you the space to attack and the worst thing is to commit a weak turnover on a loose pass. Watson and Hollingshead did the exact opposite of that.
For all the grief that Hollingshead gets; not dynamic enough, no left foot, not enough speed, he more than makes up for it with his soccer intelligence. I made a comment that the major difference between him and Moises Hernandez was how he hit his crosses. Yes, Ryan missed all this crosses or had them blocked but he always hit them low and never over the whole team. Hitting them low creates four possible chances, 1. your teammate can just redirect it towards goal - an easy shot, 2. the defender is forced to clear it, 3. the defender forces the ball towards his own goal or 4. the ball is played out for a corner. Three out of those four possibilities require the defender to do something and applies pressure whereas the over-hit ball relieves and kills the attack without forcing the defense to do anything.
So even when Watson and Hollingshead missed their cross, especially Hollingshead on this particular evening, it forced the Earthquakes to play the ball out of bounds for the Dallas offense to reset again. It's hard enough to try to start your counter from within your own penalty box, it's impossible when you have to hit the ball out of bounds.
Well played by the fullbacks for recognizing that and ensuring the ball either remained in Dallas' possession or hit out of play so that San Jose's counter would be nullified for most of the evening. Just a few weeks ago this team wouldn't have been able to resist the temptation to barge forward without compromising their defensive integrity. Dallas may see this from LA or Seattle in the playoffs and if they do, Pareja has them well versed now on how to handle it.
The Homegrown Hero
I originally feared that the Ezequiel Cirigliano and Victor Ulloa center midfield pairing would be too much of the same thing. Both are fairly industrious and willing to do the dirty work defensively and provide a quick outlet to transition the team from defense to offense. In the last two games, we've begun to see the transition for the two as they're both beginning to understand their strengths and weaknesses and making sure to not double up on it.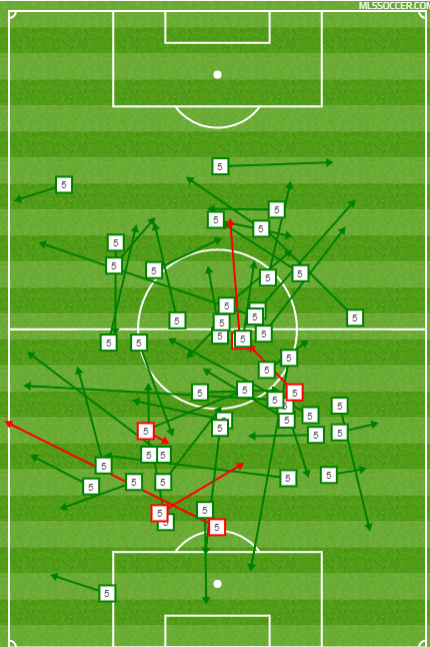 Against SJ, Cirigliano gave Dallas the defensive cover and was the metronome for the team, passing steadily out of the back and staying close to the defense and offense. While that has been Ulloa's primary role when paired with Kellyn Acosta, we got a treat to see what Ulloa could do unleashed to run box to box like another No. 8 used to do way back when.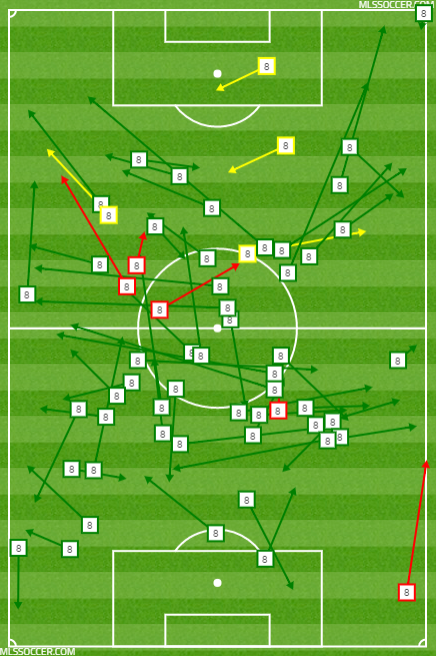 Four key passes and a goal is not a typical night for Ulloa, but this was probably what Oscar Pareja had in mind when he handed Ulloa his old number. Victor doesn't have the same tenacity and bite that Pareja has, but the soccer intelligence is certainly there and watching Ulloa do everything from defending, scoring, distributing, facilitating, creating, hustling was beautiful to watch.
Some of you may not remember but when Phil Luetchy interviewed Ulloa back in March, one of the things that Vic told Phil was that the coaching staff told Ulloa that he needed to work on was being more explosive in those first 2-3 steps. How fun then was to see Ulloa take the ball off of Clarence Goodson because he exploded off his defensive block when he saw Goodson heavy touched the ball and he had a 50/50 chance at it? The rest, of course, is history, but I'm sure the coaches were incredibly happy to see that. And to top it all off, how about this for some high praise?
Oscar Pareja called this "Graduation Day" for @ulloa_victor. That's pretty awesome.

— Daniel Robertson (@DRobertsonFCD) October 26, 2015
It's hard to believe that this time two years ago that Ulloa was without a contract. Now he is one of the first names on the starting lineup and an integral part of this club's success. SKC, LA, and SEA will not doubt focus their attention on Castillo and Diaz in the playoffs but will rue ignoring Ulloa. Good on you Vic, son of Wylie. You sure know how to make the Dallas community proud.