Earlier in the season head coach Oscar Pareja and FC Dallas were criticized for their inability to grind out results, often relying on their mental fortitude to fight, scratch and claw their ways back into matches which ultimately led to them being exposed and punished in the scoreline. Games like the 4-0 thrashing by Sporting Kansas City back on 5/29, the 3-0 drubbing by the Seattle Sounders on 6/13 and then that Open Cup embarrassment that knocked them out by the score of 6-2 on 7/1. You couldn't fault Pareja for having his team chase the game regardless of the scoreline. The effort was valiant and admirable to those who enjoyed the beautiful game in its pure form; "Go for the win. Who cares about the scoreline? Go after it and make a play!"
What we have seen, at least in the past two road games, is a Dallas team and head coach, who have learned the value of a pragmatic and practical result. That 0-0 draw against Vancouver two weeks ago and the 1-0 win against Real Salt Lake on Saturday will be very forgettable performances, but what the lasting result will be seeing this team make an improbably push for the Supporter's Shield on the final day of the season, a #1 seed in the Western Conference heading into the playoffs and all the incredibly important CONCACAF Champions League birth for 2016.
Now regardless of who their playoff opponent will be, this team knows how practical a 0-0 draw or 1-0 win on the road is. In the short run it's unsightly and nothing worth looking at, but in the context of a season and more importantly, in a playoff series, practicality and the long term gain will be what matters and what will be remembered. So here's what Dallas did to win themselves the spot into the CCL and the #1 seed for the Western Conference playoffs:
Play Creatively with
Mauro Diaz
The thought of "playing creatively" with Diaz on the field while conceding 66.3% of the possession may seem like an anomaly, but this is where there internet whispers of #Pareja4USMNT has been birthed. The Dallas of 2014 would only know how to play one way with Diaz on the field: possession and attacking. The Dallas of 2015 now knows how to do that and also do what they did on Saturday and give RSL all the possession, so as long as they don't compromise their defensive shape while still having Magical Mauro on the field to deliver those game changing passes when he can.
Dallas really had no interest in having the ball at all this one, perfectly content to sit back and absorb the pressure, knowing full well that RSL absolutely had to get a win, while FCD could have gotten out of there with a draw and still be fine.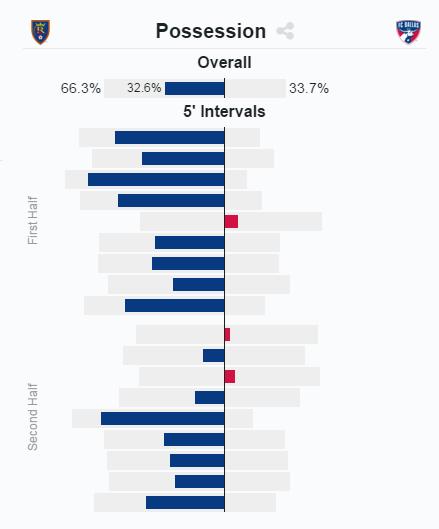 This screen shot was taken in the 10th minute but it really summed up how Dallas approached the evening.
Hedges and company are a good 5 yards back from where they normally would line up. Diaz and Texeira are not even bothering to challenging Beckerman (on the ball). But the idea was simple, from the front to the back, remain ~20 yards from one another and compact the field as RSL enters into the attack half.
The place where Dallas failed was limiting the shots that goalkeeper Jesse Gonzalez would face, having given up 19 in the match. The bright side though is that only 5 of them made their way to Gonzalez to force a save, but Dallas could have done a little better here but that's just being picky.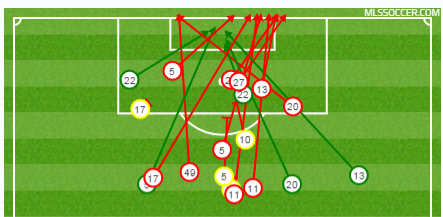 (Green - on target, Red - off target, Yellow - blocked)
The positive is that the majority of the shots came from outside the penalty area, which have a lower chance of being a goal. The downside is the frequency of shots that Jesse had to face from the middle of the penalty area, which is where most of the goals scored in MLS comes from.
The Best from Cirigliano?
Quietly lost in the shuffle was Ezequiel Cirigliano having what I thought to be his best performance in a Dallas shirt. While his passing chart shows off his ability to move around the field comfortably to combine with his teammates, what's missing in this is how quickly he got those passes off having just recovered the ball or while under extreme pressure after having just receiving the pass.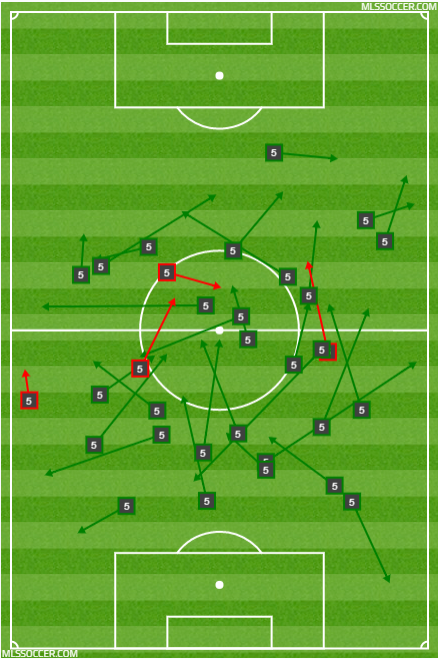 It's minor but having someone on the field who is able to get the ball out of dangerous situations quickly is a big plus for any side. Victor Ulloa is already gifted at doing this, but having another player on the field that's able to do it at his same rate just adds another layer of strength to this deep Dallas squad.
While Cirigliano's passing chops are an added bonus to this team, what he really was brought in for was to provide his defensive abilities, which he provided plenty of on Saturday: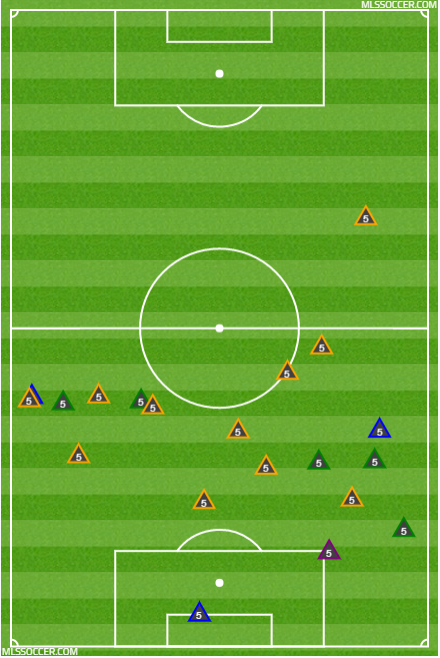 (Green - successful tackle, Blue - interception, Purple - clearance, Orange - recovery)
If you don't feel like counting that's 5 tackles (!!!), 3 interceptions, 1 clearance and 11 recoveries. At this point, Pareja has the luxury of shelving Kellyn Acosta until he's fully recovered (which hopefully won't be much longer).
The Future of Mauro Diaz
Maybe it's because I'm lazy because they're both Argentinian, but what if Javier Morales is just an older, maturely aged and a sophisticatedly refined version of Mauro Diaz? Right now Diaz has the flash and the excitement, but take a look at the passing chart and tell me you wouldn't have second guessed me if I said it was Diaz's?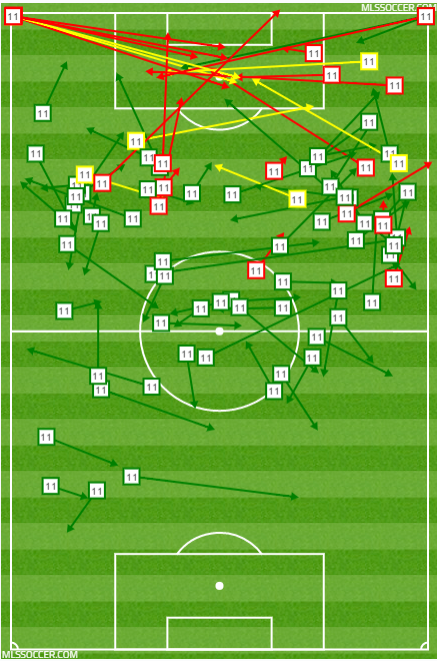 I know this is supposed to be about Dallas, but I would feel remiss if I didn't bring up what a joy it was to watch Morales pull the strings for RSL in the way that he did. Even at the age of 35, he still has the ability to create magic for his team.And maybe I'm selling Diaz short and his ceiling could very well be higher, but I certainly wouldn't complain too much if Diaz turned out like Morales.