Last week the focus was on how this Hoops side gave a playoff performance with a resolute defensive performance that often resembles a team that knows how to get results on the road. Last night head coach Oscar Pareja said it best:
"We are in a playoff mode" - OP

— Big D Soccer (@BigDSoccer) October 15, 2015
The team not only carried over their defensive fortitude but threw on the offensive might that picks up all the points and sends the other team packing. Last night's victory, compounded by New York Red Bulls falling to Toronto FC, now has FCD level with RBNY in pole position for the coveted Supporter's Shield.
Dallas will still need some help along the way given that RBNY's last two remaining fixtures come against the two worst teams in the league, Philadelphia Union, and Chicago Fire. The upside though is that this league is bananas when it comes to predictability and results, so while on paper things don't look all that promising for Dallas, there is still a good chance that things might fall the Hoops' way.
Before we move on and start prepping for this Saturday's match against Real Salt Lake, let's break down what went right for Dallas last night, starting with
Defensive Perfection
It really shouldn't be overlooked that this club has now kept Vancouver from scoring in two consecutive games now. After leaking six goals to Sporting Kansas City and the LA Galaxy, Dallas has responded by conceding just one in their last three. And let's not forget that the Whitecaps are also the league's best team away from home, and while they were ravaged by injuries, how Dallas has made them look completely ordinary has been significant.
Shot limitation has been the key to this team's defensive turnaround. It's quite simple really, if you keep the opposition from taking quality chances on your own goal, the odds are ever in your favor to get a clean sheet. And it took Vancouver 82 minutes before forcing a save from Jesse Gonzalez.
(Green - shot on target. Red - Shot off target. Yellow - Shot blocked)
Yes, there was a few key goal line clearances and timely tackles coming from CB-Keeper Zach Loyd in there too and we'll touch on that next but the defense was astounding again. Chris Seitz had the best angle to tell us what he thought of the back four:
The back four aka those four on the ground put in one hell of a shift tonight. Great result guys. pic.twitter.com/auPOaUfR8r

— Chris Seitz (@Seitzy1) October 15, 2015
Pretty fitting that all four defenders collapsed on the ground, savoring every sweet second of their most complete 90 minutes of the year.
The standout among the four was Dallas veteran Zach Loyd who, by my count, made three goal saving tackles/clearances which had the internets in a frenzy dubbing him as the Dallas maverick defender who liked to play way off his line for most of the game. Here's his chalkboard: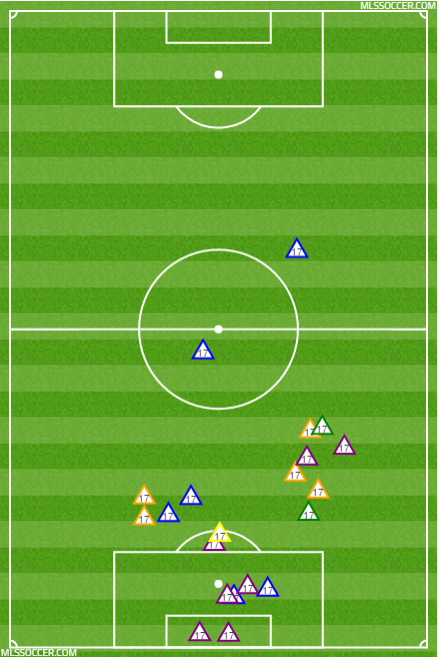 (Purple - Clearances. Green - Tackles. Yellow - Block. Orange - Recoveries. Blue - Interceptions)
Clearances inside the penalty area are pretty common place, but having the poise and the guts to intercept the ball like Loyd did (twice) was phenomenal. I voted for Zach Loyd as the team MVP in 2014 and Ulloa is in the running for me in 2015, but this performance may change my mind.
Finally, let's give it up for Ryan Hollingshead shall we? I'll just let is chalkboards speak for themselves: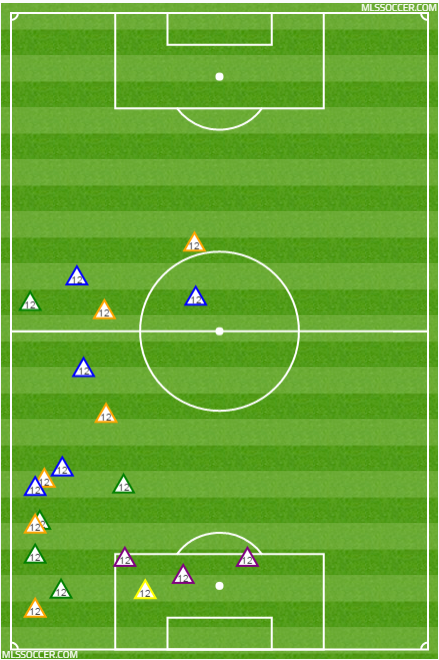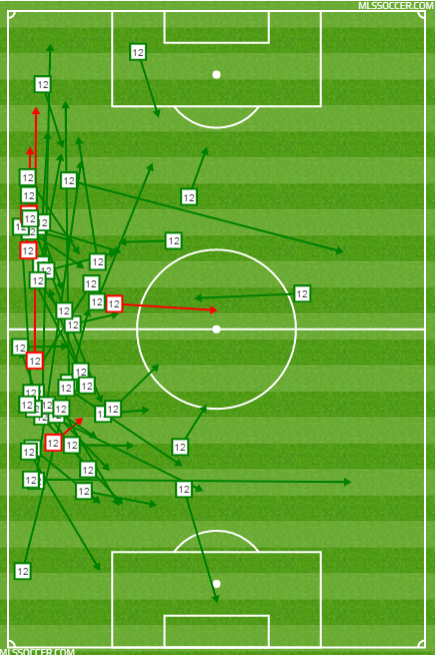 Barrios-Texeira Combo
I will admit that the chalkboards don't showcase this very well, but last night we saw the very reason why Blas Perez is no longer a starter for this club right now. David Texeira's hold up play and his ability to combine well with Michael Barrios was key to unlocking the Whitecaps' defense.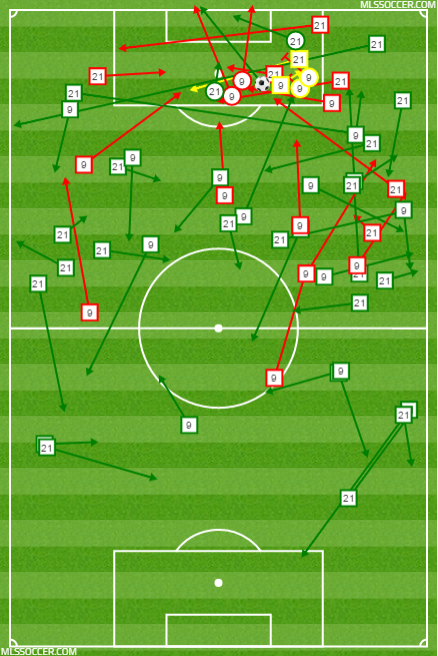 We're seeing Texeira get into good spaces inside the box to get on the end of Michael Barrios' passes. Add onto that we're also getting good hold up play from Big Tex who is touching the ball back to the midfield, drawing the defense up before sliding the ball in behind for Barrios to run on to. It's a partnership that's really starting to show its promise. We were all iffy about whether Texeira would be here next year, but he's showing signs that he not only belongs but warrants a starting spot too.
Magical Mauro
There are only two players in MLS right now that make me sit on the edge of my seat with every touch: Sebastian Giovinco and Mauro Diaz. With any touch, one of them is able to pull off the unimaginable and bring us gasping at their creativity, vision and audacity to pull off something so bold. It reminds us of playing as kids in the park, where there are no inhibitions and creativity was encouraged. We got to see more of that last night and if it feels like Diaz is taking his game up another level, that's because he is:
"It's good to be finally coming back to my level" - Mauro Diaz through a translator

— Big D Soccer (@BigDSoccer) October 15, 2015
A wonder  goal, an assist, and four key passes for the midfield maestro. All of that on top of his ability to find pockets of space and pull the strings for this team from everywhere and anywhere on the pitch.
RBNY may have the easier road to the Shield, but if Dallas can string together performances like this for the last two games of the season, then we won't just be talking about being Shield contenders but also having a legitimate claim on MLS Cup favorites.