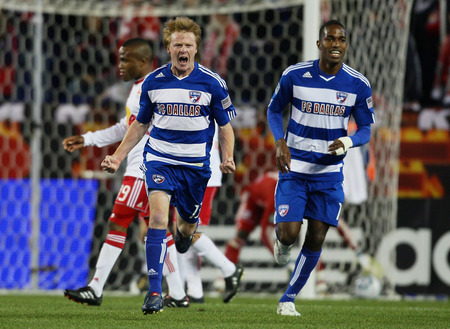 New York Red Bulls come to Frisco tonight for what I think is the biggest home game since 2007. With just the one game tonight, the entire league is going to be watching tonight's game and Dallas can send a message to the rest of the league that they mean business with an emphatic win while New York could pull themselves to just a point behind Columbus for top spot in the East.
New York Red Bulls
New York comes to Pizza Hut Park as a team that is really beginning to gel after adding Marquez and Henry. They've won four of their last six games with ten goals coming in those four wins and they've allowed just four goals in this six game hot-streak. New York is 1-3-1 against playoff teams on the road this year but played a very good game at RSL a couple of weeks ago, narrowly dropping a 1-0 loss.
FC Dallas
The stats for FC Dallas recently are about as good as it gets. Dallas has been literally unbeatable at home and on the road since their 1-0 loss to LA in May, with a perfect 6-0-0 record at home and 8-0-6 record overall. They've outscored opponents 10-1 in their six home games since the loss to LA with the lone goal coming in a 3-1 win over Philly. They've allowed six goals in their last 13 games and haven't allowed two goals in a game since April.
Keys to the Game
-For Dallas, the keys obviously center around stopping New York's vaunted attack. While Jackson(Or George John) and Zach Loyd will have their hands full trying to prevent service in to Henry and Angel, there is a secondary danger if you commit too much to stopping their forwards as Dane Richards is always a danger flying down the wings and a late-arriving Joel Lindpere is a goal threat also. It's up to Daniel Hernandez and Eric Alexander to make sure that Lindpere is accounted for.
More keys to the game, links and a prediction after the jump
-David Ferreira has to show up. I said this last week, but it's essential again. Sure Ferreira is being targeted by defenses, but he's got to find a way to get forward with the ball. He was great in New York earlier in the season, but they didn't have Rafa Marquez at that time. The Ferreira-Marquez battle is going to be one to watch all night as both are extremely gritty players who won't give an inch. I wonder if Ferreira will be able to pester Marquez enough to draw out a red card....
-Atiba Harris gave New York all sorts of trouble earlier in the season and if he can offer something going forward this team will be a lot more dangerous tonight. He brought a big bag of nothing last weekend.
-Force New York to play your game. Dallas has done it all season, but they haven't played a team with Thierry Henry and Rafa Marquez yet either. Dallas must not be overawed by the occasion and must remember that this is a home game. I worry that FC Dallas will be so concerned with stopping New York's stars that they'll forget to play the way they're accustomed to.
-Good passing out of the back. Henry and Angel are forwards with a high work rate who pressure the center backs a ton. Our center backs must play the ball out of the back quickly and crisply as to not allow New York to have their counterattack which is so dangerous.
Links
Steve Hunt writes that Kevin Hartman will be looking for another shutout tonight as he nears the FCD record.
"I think he's been tremendous this year," FCD head coach Schellas Hyndman said. "He's absolutely exceeded our expectations when he's stepped in and done as well as he has.

"He's done a fantastic job on the point blank saves, on the rebound shots and even the coordination with the defenders, that leadership and communication. All those things are tangibles that you find yourself in a world of hurt if you don't have them."
Kristian Dyer says Rafa Marquez will be back tonight and that NY is road tested.
By now, the rigors of the road in MLS are old hat for Thierry Henry.

The French striker and the Red Bulls are back at it again on Thursday, on the road for the fifth time since Henry's arrival in late July and looking to earn some crucial points against an FC Dallas team riding a franchise-record 14-game unbeaten streak.

"[It seems that] every time we go away, we play a team that hasn't lost in a long time," Henry said Tuesday, shaking his head.
Doug Quinn's charity challenge continues
A victory would also earn the Frisco Family YMCA four 2011 season tickets. Should New York come away with a victory, Quinn will donate four 2011 Red Bulls season tickets to Seth Stammler's Sporting Chance Foundation. The Ohio-based charity works to build clean drinking water wells in Haiti. The tickets would be distributed to Haitian immigrants living in the New York area.
Andy Friedlander of the DMN has a great story up about Schellas Hyndman.
"It was uncomfortable and quite strange for me to be in the middle of that," he said. "We had a meet-the-players event around that time. And some of those people came straight to my face and said, 'I want to say this in front of you face-to-face, not behind your back. We loved you as the SMU coach. But you should have stayed at SMU.' And with all this anger inside of me, I was able to ... just say, 'Sorry you feel that way.' I didn't really defend myself because I had nothing to defend myself with."
Once a Metro has a game preview
The Red Bulls have made some big changes too. I've already talked about Thierry Henry and Rafael Marquez to the point I'm getting sick of it. They're hitting their stride and the team is finally playing as a unit. It's my opinion they're the reason for the improved play of Dane Richards.
Buzz at 3rddegree has a match preview up
The chaos of injuries continues to plague FC Dallas and the lineup reflects the current state of the team. Officially for Dallas Ugo Ihemelu is still out with a concussion, although he has started jogging, and George John is questionable with a hamstring strain. Zack Loyd will continue to start in Ihemelu's spot.
The Goal.com preview has two different game predictions
Prediction
This is a tough one to call in a game between two teams with a combined three losses in 28 games. I think a Dallas team that's struggling to find offense goes down 1-0, but gets a late penalty to tie
FC Dallas 1 New York 1