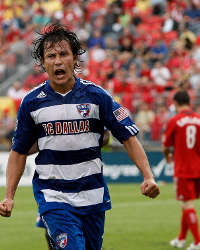 FC Dallas continues their march towards their first playoff appearance since 2007 tonight at Pizza Hut Park against Toronto FC. With a predicted high of 88 degrees, the heat should not be a factor tonight and we should see a flowing, open game(provided Preki doesn't try to pack the midfield and play for 0-0).
The big story of tonight's game centers around the players who won't be playing(Daniel Hernandez, Dax McCarty, Ugo Ihemelu, Atiba Harris). Schellas Hyndman is playing it pretty close to his chest on who might play, especially with the injury to Milton Rodriguez. However, he practiced yesterday and I think he starts tonight.
"The last two days we were looking at our options. Some players are injured. Others are not available. We're going to sleep on it and see what we think tomorrow. A win against Toronto would say a lot about our depth. If the players step up and perform well, we'll call their name again."
With Hernandez out, I think the most clear replacement is Eric Alexander for that position. DeRosario is out on national team duty so Schellas can trust the rookie in what will be a bit easier of a job.
Who fills in at the other spots, game links and prediction after the jump
It's just a hunch, but I think Avila gets a start either in front of Alexander or at right mid. I don't have a whole lot to base this on, other than Schellas' comments about Avi saying he's improving every game and needs more minutes. I think this is a perfect game for Avi to start as Toronto is without their midfield destroyer in De Guzman and he will have some room to operate.
Since Milton Rodriguez practiced yesterday, he starts tonight. He scored against Toronto last time and should get the nod. That leaves one more spot open and I think it goes to Jackson who will swap right mid and midfield spots with Avila throughout the game.
Some reading material before you head out to PHP tonight
Ruben Luna checks in with a new blog on the eve of his first time on the bench as a professional. If something happens today and Milton can't play, there's a great chance that we see Ruben out there.
The MLSSoccer.com Match Preview is up
Schellas Hyndman's club has been just as tough at home, where they're 6-1-3 this season and winners of their last four. Hyndman will be without starting right mid Atiba Harris and captain Daniel Hernandez, as both got their fifth yellow cards of the season last weekend. Rookie Jackson Gonçalves could replace Harris on the right and Bruno Guarda could spell Hernandez in the middle of the park.
Doug Quinn has made another bet with the opposing team GM. This could actually be a brilliant season ticket sales ploy with how well FC Dallas is playing ;)
An FC Dallas win on Saturday at Pizza Hut Park will earn the Dallas branch of Dress for Success two 2011 season tickets. Should Toronto FC come away with a victory, Quinn will donate four tickets to the 2010 MLS Cup to a Toronto-based charity of COO Paul Bierne's choice.
Andy Friedlander's Dallas Morning News preview is up and it centers around Brek Shea with a couple of great quotes from Schellas.
"He's probably 60 percent of what he potentially can be," Hyndman said. "So if he's got another 40 percent to go, he could ... end up in Europe"You can see the growth in him. ... He has much more confidence in himself, and the players around him have much more confidence in him. If you look at the videos of the first few games and the most recent games, guys are passing him the ball a lot quicker now because they have confidence in him."

...

"Many are called and few are chosen," Hyndman said of his reserves. "These guys are being called now to perform. If they step it up, they'll be chosen again."
Steve Hunt checks in with a game preview for fssouthwest.com
"We all know Preki is a coach who is very demanding. He wants results," the FCD coach said. "I think he's put those players under a lot of pressure. He's going to be missing some players for the Canadian call-up and they might have an injury we don't know about. It's going to be a game where Toronto is very good. If they lose a striker, they've got O'Brian White coming in. If they lose a midfielder, they've got (Martin) Saric coming in. They've got some answers."
Buzz Carrick with his look at what the starting lineup could look like today
On the right side of midfield Marvin Chavez has been getting the bulk of the minutes in training this week and should get the call.

Milton Rodriguez missed training on Thursday as a precaution with this shoulder injury and is a game time decision, but he did train on Friday. If he can't go, Jeff Cunningham will be the obvious replacement. With Rodriguez training on Friday, he'll get the call if he's cleared on game day as I expect him to be.
Prediction
Unfortunately, all signs point to Preki bunkering and playing for a point, however, the game is won in the midfield and Toronto is without their two biggest guns in DeGuzman and DeRosario so FC Dallas shouldn't have much trouble with Toronto. There will be some reserves playing for Dallas, but they looked very hungry in the practice I saw this week and I think players like Avila, Chavez and Jackson will step up. Homer call of the week...
3-0 FC Dallas