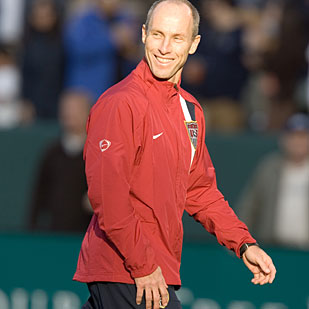 While most of the US Soccer world is buzzing about the contract extension of Bob Bradley, which you're not coming here to read about, there's a little bit of FC Dallas news and other tidbits to kill some time at work.
Steve Hunt's FCD Notebook tells us that Schellas isn't worried about Milton or Kevin Hartman.
"What a great ball he gave to Brek, and Brek's first touch takes him away from the goal," Hyndman said. "If Brek puts the ball in front of him, I think we win the game 1-0."

...

"It's no different than an NFL player that you throw a ball to and he drops it," Hyndman said. "It's the simplest ball. Nobody's around him and he takes his eyes off it and drops the ball. I think Kevin … felt somebody was going to come in and hit him. He took his eyes off [the ball and it] came out of his hand."
More from Steve, power rankings, US Soccer snubs the south again after the jump
Steve also gives us his take on what the FCD lineup could look like this weekend.
Right Mid

Jeff Cunningham---If Hyndman wanted to go offensive in this move, he could plug Cunningham into this spot. The veteran scorer got several games at right mid during the FCD manager's first year back in 2008 and Cunningham played pretty well. With lone striker Milton Rodriguez producing just one goal and one assist in his first six games, Hyndman could put Cunningham up top but finding a way to get him and Rodriguez on the field at the same time albeit in different positions, could be an interesting experiment. Chances: Intriguing
Power Rankings are rolling in and FC Dallas is second in the MLSSoccer.com rankings with a grammatically strange comment.
Unbeaten in 12 straight, Hoops' last loss was in May. We'd say be afraid.
The great Kyle McCarthy of Goal.com has FCD at the top of his rankings
1. FC Dallas – It isn't all dash and flash for FCD. The most recent evidence to buttress that claim: Saturday's gritty 0-0 draw at Columbus. (1)
The US Men's National Team has scheduled another friendly over a thousand miles away from Dallas in Philadelphia where they'll face a Colombia side that could have David Ferreira make his return to the national team. Seriously though, does the US Soccer brass realize that there are fans below the Mason-Dixon line who would love to have a game near them at some point?
One soccer governing body that is coming to Dallas soon is FIFA who will be inspecting Jerry World and the Cotton Bowl in the next few days. If you see them around town, buy them a beer and tell them we want the World Cup Final here.
Ramon Nunez has signed with Leeds United of the English NPower Championship...I predict epic fail.
The 24-year-old, who can play in either midfield or attack, has been at Elland Road for one month and has impressed Simon Grayson sufficiently to earn a permanent deal.

Leeds have now received a work permit for the player and he has put pen to paper on a permanent contract, having scored for the Whites in a pre-season friendly win over local side Bradford Park Avenue.
A look at the race for the supporter's shield after lunch...