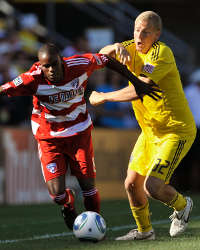 So I'm super late to the game on this one due to work craziness, but FC Dallas earned a point in Columbus by way of a 0-0 draw on Saturday afternoon setting the all-time MLS road unbeaten record at 10 games.
Game thoughts:
-My instant reaction after watching the game was "that wasn't pretty, but that's exactly the kind of road result FC Dallas will need to grind out in a first round playoff series." There's nothing exciting or sexy about the 0-0 road draw, but if FC Dallas hopefully plays their first playoff game on the road, this game is all you're really looking for. Credit to the entire team for fighting and coming close to snatching 3 points at one of the top teams in the league.
-No matter what happens for the rest of the season, the team has achieved something great with the 10-game road unbeaten streak. When looking at the all-time league record book, you don't see FCD's name very often so this is something to really be proud of.
-I thought yesterday was the first time Dallas really missed Ugo Ihemelu in the back four as opposed to Zach Loyd. Renteria, who is a beast by the way, was giving Loyd fits all afternoon and I was petrified that he was going to give up a penalty fouling Renteria before the game was over. I hated Warzycha's substitution of him in the second half as Renteria was Columbus' most dangerous player the entire game.
-You can never criticize a defense too much when they pitch a shutout, but I thought it was an up and down game from the back four. You could clearly see they were seriously dialed in on any set piece opportunity, as Schellas talked about all week, but during the run of play Columbus was giving the back four all kinds of fits. I suppose it's good coaching to defend against a team's strengths like that though.
More thoughts on the game and links after the jump
-Another great performance from George John. If FC Dallas goes deep in the playoffs, I would be very surprised if John didn't get called into Camp Cupcake in January for the national team. He completely shut down Chad Marshall.
-As much as anyone, I'm an advocate of giving a forward enough time to figure out the league, but it's time for Milton Rodriguez to show a little more. He's doing the little stuff well, but it's time to do something big. At the end of the day, you need your forwards to score goals or at least put shots on frame and Dallas isn't getting enough from the Colombian, in my opinion.
-I loved the substitution bringing in Avila for Alexander in the second half. Normally, on the road, it would probably be Bruno coming in, but this was Schellas telling his team "you're better than Columbus and I trust you, go win the game." It would've worked wonderfully if Hesmer hadn't made a remarkable save on Avila's shot.
-Daniel Hernandez and Atiba Harris are definitely out this weekend. The lineup could get a bit ugly, but those who don't like Atiba in the starting lineup will get to see if they are right next weekend.
-I think most people would agree that Dallas played poorly on Saturday. Kevin Hartman nearly cost them a goal, David Ferreira was well off his normal pace and they still got a road point at one of the toughest places to play in the league. This team has come a long way.
-FC Dallas plays at Columbus while Los Angeles hosts Kansas City and FCD gains a point on the league leaders. The tables are turned next weekend with Dallas hosting Toronto and Los Angeles traveling to Chicago...I have a feeling the Supporter's Shield race is going to get even closer after next weekend.
Links
Buzz at 3rddegree talks about the unbeaten streak and Jay Brownlee gives us his "Zip it" article.
So what's it mean, what's this record worth?

It means, obviously, that FCD is darn hard to beat. It means that Hyndman's team plays some darn stingy defense and gets some timely goals. It means this club has some serious grit and determination not to lose.
The Columbus Dispatch Crew Review
"It was kind of like when you watch a boxing match and it's two heavyweights just testing each other," Crew defender Danny O'Rourke said. "No one really threw a knockout punch. It wasn't pretty."..........

Rookie defender Zach Lloyd, who cleared a Guillermo Barros Schelotto shot off the goal line, got the worst of what Renteria offered. "Zach grew up a little bit today," Dallas coach Schellas Hyndman said.
Steve Hunt writes that Schellas was happy leaving with a point
"I think this was a game that both teams could have, and probably should have, won," Hyndman said.

"Not too many teams come in here and get a point against Columbus. To get a point here, to withstand the pressure of their set pieces, it continues to show our determination and our character. Hopefully we'll continue to develop confidence with this type of game."
All in all, another good point for FC Dallas...coming up this week on the site includes another look at the Supporter's Shield race, a look at what happens with the lineup for this weekend's game, I make a case for the Bundesliga and Practice Live on Wednesday morning.