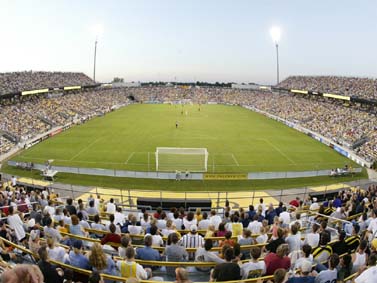 A crazy work schedule this weekend is going to prevent much posting, so let's take an early look at the biggest game of the season so far with FC Dallas heading to Columbus to take on a Crew side that is still seething from their last second loss at Santos Laguna mid-week.
We should see the exact same lineup from FC Dallas as the Chivas game with Milton Rodriguez staying at forward and Eric Alexander holding down the midfield. Kyle Davies could make a return to the bench, but it will be no Ugo or Dax again.
FC Dallas' approach to the game, from everything Schellas has said, will be to get all 3 points, but with 9 wins from 11 home games(a home point total only equaled by Real Salt Lake), Crew Stadium is arguably the toughest place in the league to win.
After the jump, a key Crew player who will be out for the weekend, preview videos from Brek Shea, the team beat-writers and MLSSoccer.com staff as well as my game prediction.
Columbus seems to be worrying(1) about(2) everything(3) but the FC Dallas game on Saturday and that makes me happy. The most important thing from those links is the news that Emmanuel Ekpo is out for Saturday's game with a groin strain. According Shawn Mitchell, the great Crew beatwriter for the Columbus Dispatch, Gino Padula is also out as well as Robbie Rogers(knee surgery) and Frankie Hejduk(suspension).
Emmanuel Ekpo suffered a groin injury on Tuesday at Santos and will be unavailable for Saturday's home game against FC Dallas.

Coach Robert Warzycha called the injury "minor" and said Ekpo could "possibly" be available for an Open Cup semifinal on Wednesday at D.C. United and would be "good to go" for a Sept. 4 MLS game at United.
The official FC Dallas training report from yesterday had this nugget of a quote from Schellas.
"The coaching staff has spent more time breaking down this match against Columbus than any other one since I've been here," Hyndman said.
Steve Hunt writes about FC Dallas not winning at Crew Stadium since 2007....though I guess you could say that most teams haven't
"We need to go out confident and stay focused. We stayed focused in DC and in Houston," midfielder Atiba Harris said. "We just need to go into Columbus and focus for 90-plus minutes. Hopefully we do that and come out with a result."
In a pretty cool new MLSSoccer.com feature, Craig Merz and Steve Hunt discuss the upcoming game.(VIDEO)
Brek Shea also talks about his season so far and the game....this one is very worth watching to learn more about how Brek Shea has progressed this year.(VIDEO)
Finally, the video parade ends with the great Simon Borg and Jason Saghini breaking down the game from a tactical standpoint...another good feature from MLSSoccer.com
Some news out of Columbus where Robert Warzycha takes a shot at Jeff Cunningham....I hope Schellas shows him this article.
Cunningham played 182 games for Columbus from 1998 to 2004. In 2001 and 2002 alone, he notched an astounding total of 28 goals and 18 assists. But he was plagued throughout his stay with the Crew by inconsistency and immaturity when things didn't go well.

"Because of the work rate, I loved to play with Brian and I loved to play with Edson," Warzycha said. "We got frustrated with Jeff sometimes because he was trying to do too many things by himself. He didn't allow his teammates to help his game. That's what I think happened to Jeff."
Simon Borg tries to stir up some news around Ferreira's loan being up in December....he ain't going anywhere.
"I hope to stay [with FC Dallas] for many years," the 31-year-old told MLSsoccer.com. "The decision lies with FC Dallas. … I hope the possibility exists to continue."

...

The march to the playoffs continues with a match in Columbus against the Eastern Conference-leading Crew, a fellow contender for the 2010 Supporters' Shield.

"We're going to Columbus to entertain and play good soccer," Ferreira said. "We need to be intelligent and keep in mind that getting a good result will help us continue to move forward."
The MLSSoccer.com match preview has one glaring error...ummmm
In their last meeting vs. the Crew, FCD kept the series between Hunt Sports Group teams level when David Avila scored in stoppage time at Pizza Hut Park in Frisco on April 10 for a 2-2 draw.
Prediction:
I know it's tough as hell to win at Crew Stadium these days, but everything I've seen this week shows FCD is working harder on this game than they have all year and they really want this one. It's a major statement game for Dallas as they've done very well recent but it was against the dross of the league. With what would be an MLS record 10-game road unbeaten streak on the line and a Columbus team that seems to have their mind elsewhere, I think Dallas comes in here and takes a first half lead. Columbus comes out after halftime woken up and ties the game up but Jeff Cunningham shows up big and grabs the biggest win of the season for Dallas. Homer call, I know.
FC Dallas 2 Columbus Crew 1
Enjoy a huge MLS weekend where all 16 teams play and give me your prediction for the match in the comments, I'd love to hear what others think about the game.